Hannity Grabs Huge Ratings Post-Mueller While Running Almost No Commercials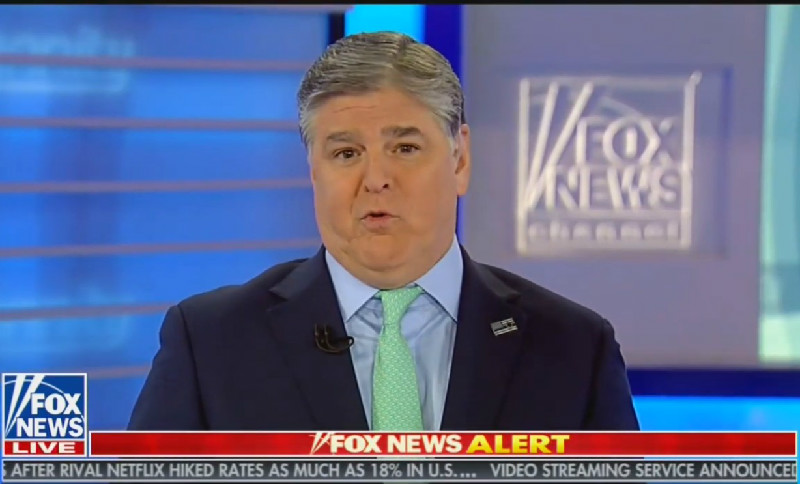 It is no secret that immediately following the release of Attorney General Willam Barr's four-page summary of Special Counsel Robert Mueller's report finding the Trump campaign did not conspire with Russia in its election interference, Fox News has ridden a wave of strong cable news ratings while both MSNBC and CNN have seen their viewerships plunge. It was all President Trump could talk about at the start of his Thursday night campaign rally in Grand Rapids (aired in its entirety by Fox News).
Since Monday, the ratings champion has been pro-Trump conservative host Sean Hannity, who has taken the opportunity to take a victory lap, blast his cable news competitors, and call for a "day of reckoning" for Trump's media and political opponents. He also scored the president's first post-Mueller interview, calling up Trump on Wednesday night for a 45-minute chat.
While Hannity led cable news every night this week in total viewership, thrice topping four million viewers, the Fox star has run very few ads during the first four broadcasts after the Barr letter's release.
During the four hours of Hannity's programming from March 25th through March 28th, the 9 PM show ran eight total ad breaks totaling 33 minutes. And on Wednesday's show, which featured the Trump interview, no ads were aired at all.
Only one night, Tuesday, contained an ad load on par with a typical Hannity broadcast, as that night Hannity had four ad breaks for a total of 16:30 of commercials.
The lack of ads aired on Wednesday and Thursday were especially stark for Fox News considering that the network also ran Trump's Thursday night rally uninterrupted. Therefore, Thursday night's Tucker Carlson Tonight was largely devoted to the Trump rally, as it ran until roughly 8:45 PM, giving host Tucker Carlson only 15 minutes of airtime before Hannity. Carlson, currently suffering through a sustained advertiser boycott, was able to run one ad break that featured MyPillow, SoClean and station promos.
After taking over for Tucker Thursday night, Hannity was on the air for 45 minutes before finally heading to break. Considering his program didn't air any ads the night before, Hannity went 105 straight minutes of highly-rated airtime without a commercial. That isn't even taking into account that Fox was hardly able to run any ads in the two hours prior on Thursday due to the Trump rally.
What makes the lack of commercials this week truly stand out is the fact that Hannity's fellow Fox News primetime colleagues — Laura Ingraham and Tucker Carlson — are both dealing with enduring advertiser boycotts that neither program has yet to recover from.
Since last April, The Ingraham Angle has lost 40 percent of its advertising load following Ingraham's public mockery of Parkland shooting survivor David Hogg after he was rejected by some colleges. Even while Ingraham's ratings have remained strong at the 10 PM hour, her program only averages 10 and a half minutes of ads an hour, compared to the 15 minutes it was running prior to the boycott.
Carlson, meanwhile, has seen most blue-chip advertisers bolt from his show since mid-December when he said immigration makes America "pooer and dirtier." The advertiser boycott gained strength earlier this month after liberal media watchdog Media Matters for America released a tranche of audio clips from Carlson's appearances on shock jock Bubba the Love Sponge's radio show in which the conservative commentator made numerous misogynistic, xenophobic and racist statements while also defending child rapist Warren Jeffs.
According to The Hollywood Reporter, Tucker Carlson Tonight has recently begun leaning heavily on station promos to fill its ad slots. While the program had already cut back to just four ad breaks for a total of 11 to 13 minutes of ad time a night, network promotional spots now make up 35 percent of Carlson's ad load. Carlson is also counting quite a bit on direct-response advertiser MyPillow to fill up paid time, with the program generally running four minutes of commercials an evening.
It would appear that Hannity is self-aware of the lack of ads he's run on his program this week. Approaching the 45-minute mark on Thursday while interviewing conservative radio host Rush Limbaugh, he asked the right-wing superstar to stick around for at least one more question because he had to go to break.
"They're going to kill me for not breaking," he told Rush, almost apologetically.
Obviously, Fox News is extremely proud about this week's primetime ratings, especially in comparison with CNN and MSNBC, which have both seen a substantial dropoff. However, what good are those ratings if you aren't selling ad time during those broadcasts?
We've reached out to Fox News for comment and will update this post if we hear back. In the past, Fox News president of ad sales Marianne Gambelli has said: "We support all of our sponsors and they know the value of the audience." Of course, that was in response to the ad boycotts, not about its top-rated show airing very few ads during a highly-watched stretch.