Chris Wallace Presses Mike Pompeo: Why Does Trump Say He 'Fell In Love' With Kim Jong-Un?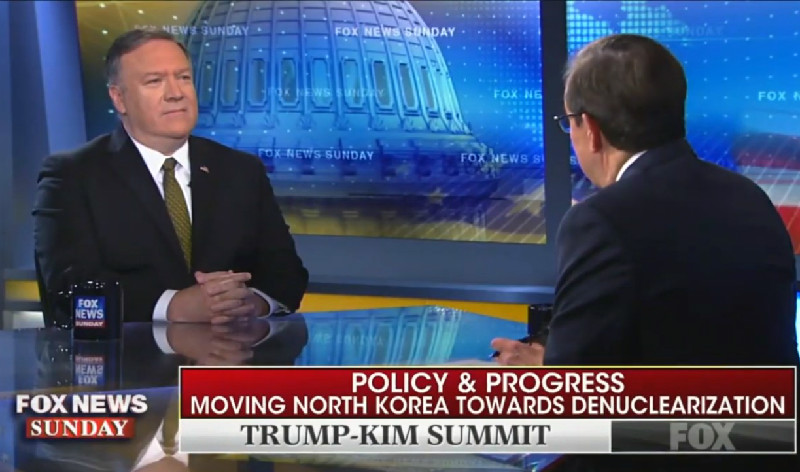 Ahead of this week's North Korea-United States summit in Vietnam, Fox News Sunday host Chris Wallace pressed Secretary of State Mike Pompeo on President Trump's fawning rhetoric towards brutal North Korean dictator Kim Jong-Un, asking Pompeo why the president does that while noting critics believe Trump has been "unrealistic" about his relationship with Kim.
Following last year's Singapore summit, Trump boasted that there "is no longer a nuclear threat from North Korea," seemingly claiming that the Hermit Kingdom had committed to denuclearization. Of course, that is far from the truth, and the president's own intelligence chiefs have said publicly that North Korea is still looking to expand its nuclear and WMD capabilities.
During an interview Sunday morning, Pompeo touted other purported successes in the Trump administration's negotiations with Kim while criticizing Trump's predecessors. At the same time, he admitted that they haven't made progress on certain pillars in their discussions with North Korea.
"There is criticism that President Trump is unrealistic about his relationship and the threat coming from North Korea," Wallace noted. "I want to make a couple of points about this. After Singapore, the president tweeted this: 'There is no longer a nuclear threat from North Korea' and he talks repeatedly about the strength of his relationship with Kim."
Footage was then shown of Trump telling a rally crowd that he and Kim "fell in love" and that the genocidal dictator wrote him "beautiful letters."
"Why does the president say that?" Wallace asked Pompeo.
"Relationships matter, Chris," the secretary of state answered. "They affect everything in our lives, whether it's grand strategy and denuclearization, or simply things. Relationships absolutely matter. It's important that the two leaders are able to effectively communicate."
Pompeo concluded that Trump and Kim will have a "frank, candid discussion" about "creating a brighter future for North Korea."
Watch the clip above, via Fox.