Tapper Calls Out Pompeo Over Trump's Claim That North Korea Is No Longer a Nuclear Threat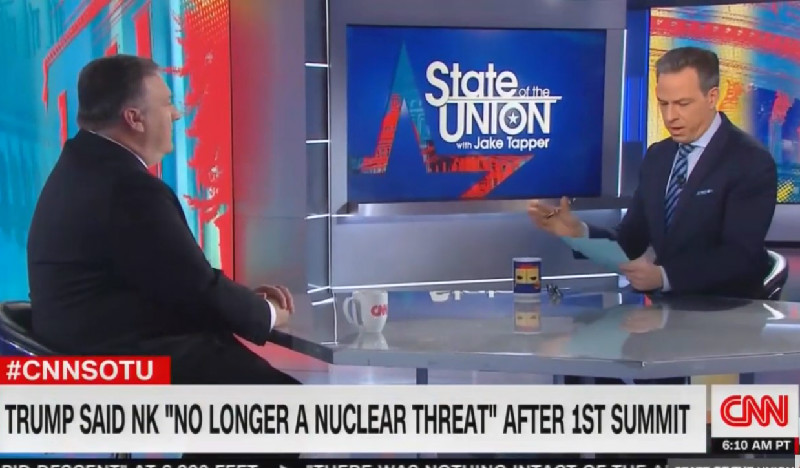 CNN anchor Jake Tapper pushed back against Secretary of State Mike Pompeo after Pompeo claimed that President Trump didn't previously boast that North Korea was no longer a nuclear threat, pointing out that this was a "direct quote" from the president.
During Sunday's broadcast of State of the Union Tapper noted that the president's intelligence community recently contradicted Trump's prior claims that North Korea was committed to denuclearization before bringing up the president's tweet after last year's Singapore summit stating unequivocally that "there is no longer a nuclear threat from North Korea."
Just landed – a long trip, but everybody can now feel much safer than the day I took office. There is no longer a Nuclear Threat from North Korea. Meeting with Kim Jong Un was an interesting and very positive experience. North Korea has great potential for the future!

— Donald J. Trump (@realDonaldTrump) June 13, 2018
"Does he still believe there's no longer a nuclear threat from North Korea, even though [CIA Director] Gina Haspel says North Korea is committed to creating this missile that could hit the United States?" Tapper asked Pompeo.
The secretary of state responded that the administration is aware of North Korea's history of breaking promises and lying and that he's "very hopeful" that the upcoming Hanoi summit between North Korea and the United States will be a "substantial step" towards achieving full denuclearization.
Pompeo then told Tapper that he believes that North Korea is still a nuclear threat, causing the State of the Union host to point out that the president "said he doesn't."
"That's not what he said," Pompeo shot back, leading Tapper to again highlight the president's tweet.
"What he said was the efforts made in Singapore, this commitment has substantially taken down the risk to the American people," Pompeo asserted. "It's the mission of the secretary of state and the President of the United States to keep American people secure. We're aiming to achieve that."
Not sold on the secretary's spin, but obviously realizing that he wasn't going to get any further on this, Tapper got the last word in.
"That's just a direct quote, but I want to move on," he stated.
Watch the clip above, via CNN.