Howard Dean Blasts Video of Dianne Feinstein Berating Schoolchildren: 'That's Propaganda!'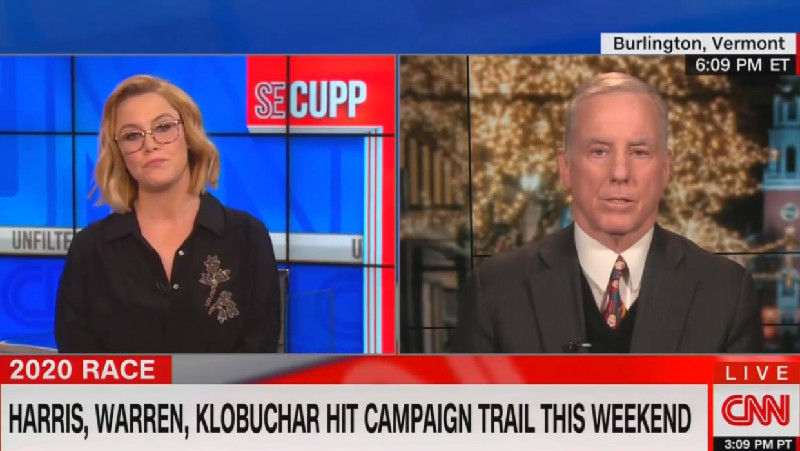 Former Democratic National Committee chairman Howard Dean blasted the activist group who posted a viral clip of Sen. Dianne Feinstein (D-CA) berating a group of schoolchildren who called for her to back the Green New Deal, calling the video "propaganda" while claiming the media shouldn't show edited clips.
Appearing on CNN's S.E. Cupp Unfiltered Saturday, the ex-Vermont governor first praised Green New Deal sponsor Rep. Alexandria Ocasio-Cortez (D-NY), saying that we need someone like her to "push us all" towards a climate change solution.
"Anybody who's thinking that climate change is not a really critical issue shouldn't be in office, and she aims to get them all out," Dean told host S.E. Cupp. "I agree with that. Then what we do about it? We're going to have lots of discussions, lots of different points of view. I don't think it hurts to have somebody out on the edge saying why haven't you done anything about it?"
Cupp then brought up the Feinstein confrontation, asking Dean if he thought it was "the best look" to send children to a senator's office to "harangue her" to agree to support the Green New Deal.
Dean immediately said he doesn't think the "media ought to air edited videos," directly blaming the media for doing that. Cupp pushed back, noting that the "media didn't edit it" but it was the activist group Sunrise Movement that first posted the edited clip. She added that CNN has been playing fuller clips from the encounter.
"No, I appreciate that," the former DNC chief responded. "I'm saying the initial — initially the media — and it was actually social media first, put it up. That's propaganda! It may not be as bad as Alex Jones who just makes things up, but propaganda is not helpful on any side."
As Cupp agreed wholeheartedly with Dean that the clip was propaganda, the one-time Democratic presidential candidate defended Feinstein's behavior, stating that she "is not wrong" and that "compromises" are needed.
"I like AOC because she pushes the envelope, and I think it needs to be pushed, particularly in Congress, which is the most resistant to change, but there are actual practical things like money that matter," Dean concluded.
After an abridged clip of the exchange went viral on Twitter — the full encounter was posted to the group's Facebook page — a number of prominent Democrats and liberals rallied to Feinstein's defense, claiming that Feinstein was the victim of deceptive and selective editing. In fact, so many comparisons were made to conservative provocateur James O'Keefe — who is notorious for utilizing misleading video footage in his 'stings' — that O'Keefe's name trended on Twitter.
Watch the clip above, via CNN.