Tucker Carlson Guest Tells African-Americans to 'Move On' From Slavery, Calls Reparations 'Absurd'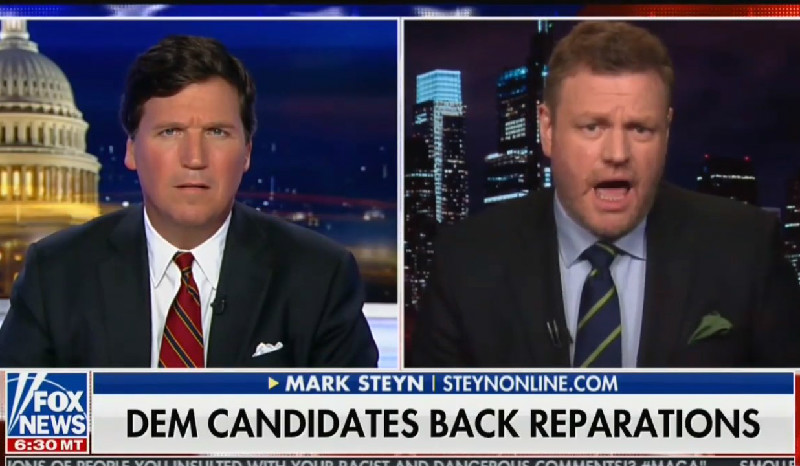 Frequent Fox News guest Mark Steyn railed against the idea of slavery reparations Thursday night, saying that the proposal is based on "nothing real" and that African-Americans "need to move on" from slavery because it happened over 150 years ago. Fox News' Tucker Carlson, meanwhile, seemed to agree with everything Steyn said and chastised the idea of reparations as "divisive."
Appearing on Tucker Carlson Tonight, Steyn — a Canadian pundit with a long history of racist rhetoric and xenophobia — took on Democratic presidential candidates for endorsing slavery reparations, calling it "absurd" while Carlson said it was the de facto position of the Democratic Party. Steyn went on to call it a "neo-apartheid of racial classification" before criticizing Sen. Kamala Harris (D-CA) for saying not everyone is starting "from the same point."
"Slavery was abolished a century and a half ago," he declared "Nobody alive today has a grandparent who was a slave. And in that sense, I think you reach a point where, you know, you need to move on."
The Camp of the Saints superfan continued: "I mean, the reparations thing, eventually as the decades goes by becomes ridiculous. I'm Canadian I think you guys should give us reparations because if you hadn't had the revolution, we'd have the whole continent would now be Canada."
After Carlson and Steyn joked around a bit about Canada, Steyn said that there is "nothing real" about slavery reparations and that it just has to do with "identity politics." He concluded by criticizing Harris for endorsing the issue even though she doesn't have an "African-American slave experience" because of her Jamaican-Indian heritage.
"It's all so bad though. It's really divisive," Carlson replied.
These comments come at a time when Tucker Carlson Tonight is dealing with an advertising boycott over anti-immigrant comments Carlson made on air late last year in which he said immigration makes America "poorer and dirtier." At least 20 sponsors ditched Tucker's program in the aftermath of the backlash over those remarks and have yet to return.
Watch the clip above, via Fox News.