Lindsey Graham's False Talking Points Go Unchallenged by CBS News' Margaret Brennan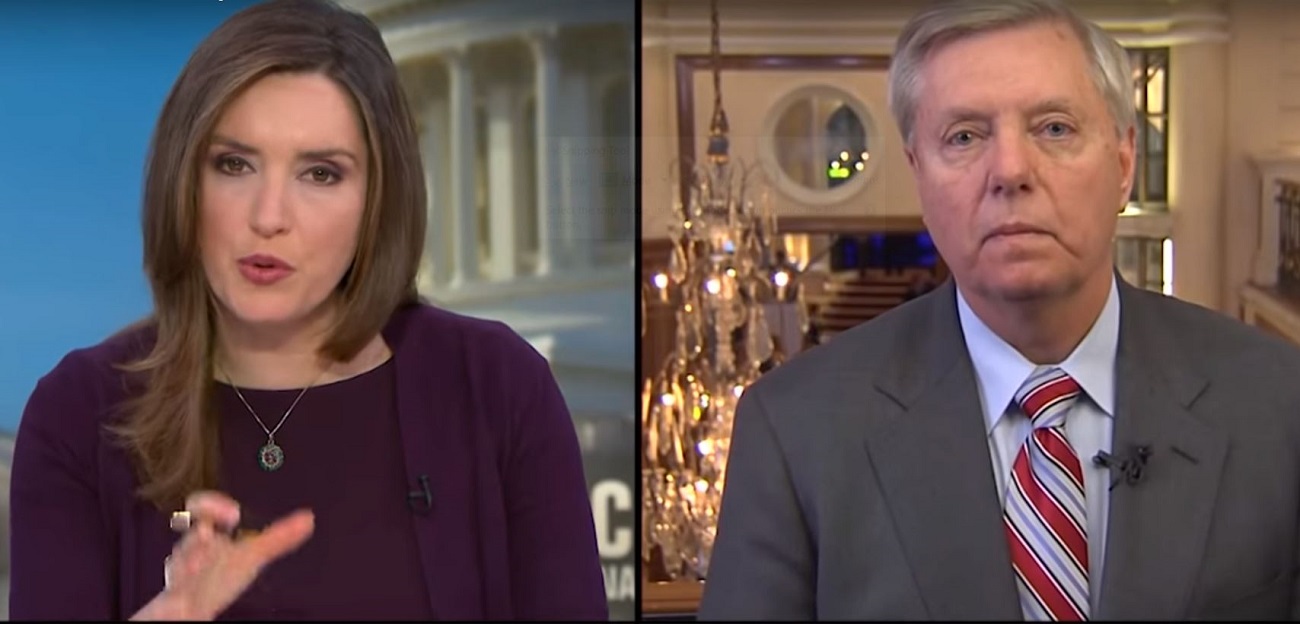 This is a master class in being unprepared for an interview.
Margaret Brennan of CBS's Face the Nation hosted Sen. Lindsey Graham (R-SC) for a chat on Sunday morning. She spent the first half letting Graham ramble on unchallenged as he made false assertion after false assertion about the Russia investigation, all of which have been answered for months elsewhere. Brennan was either ignorant of this, or she and her producers think their job is to provide a forum for partisans to spew garbage while they step back and let it happen.
Let's take on a couple of Graham's claims. Here he is on the claims of former Acting Director of the FBI Andrew McCabe's claim that leaders of the FBI and Justice Department discussed whether the 25th Amendment would need to be invoked against President Trump:
---
"Was this an attempted bureaucratic coup?"
---
Letting Graham use this sort of language with no pushback is dangerous. As we know both from McCabe's 60 Minutes interview and all kinds of reporting over the last year and a half, there is context for the 25th Amendment discussion that went on at the time. We also know that the 25th Amendment can't be invoked by the federal bureaucracy. It has to come from the vice-president and a majority of the Cabinet, then get through two-thirds majorities of the House and Senate. All the FBI can do is provide information to those bodies. It's actually a harder process than impeachment.
McCabe and Deputy Attorney General Rod Rosenstein were discussing what options would be available for the country if they found damning information on Trump. They seem to have realized quickly that the 25th Amendment was not one of them. That's it.
Here is Graham after Brennan asks him if he understands why McCabe, a counterintelligence investigator, was troubled enough by what he saw from Trump to open an investigation of him:
---
"What I can't understand is why Mr. McCabe would meet with [FBI lawyer Lisa] Page and [FBI agent Peter] Strzok to discuss their hatred for candidate Trump, talking about taking an insurance policy out if the election went different than they want."
---
This has been answered by Strzok's testimony to Congress in the Russia investigation. The FBI agent testified that he did not believe Trump would win the election but was telling Page that they should investigate all the allegations against him just in case he did. After all, Trump winning the election does not mean the FBI should ignore any potential Russian meddling in it, as Graham had said just a minute before.
Strzok likened such an investigation to taking out a life insurance policy before you turn 40. It is unlikely that you will need it, but it doesn't hurt to be prepared. Graham is likely well aware of this context. But it helps him, and helps Trump, to keep the question of whether there was a "Deep State" plot against the president unanswered. Here Brennan helps him do that, at the cost of informing her audience of the truth.
Here is Graham on Carter Page (no relation to Lisa) and the infamous Steele dossier:
---
"I don't understand how on four different occasions, a FISA warrant was issued against an American citizen based on a dossier prepared by an agent of the Democratic Party gathered in Russia that is not credible to this day."
---
The FBI has stated repeatedly in testimony to Congress that it did not rely on the Steele dossier for the FISA warrants against Carter Page. Its assertions have been backed up by the release of the warrant applications, even with heavy redactions in those documents. The FBI had known that Page was a target for Russian recruitment years before Donald Trump was even running for president. This is all a matter of public record going back to last year.
Lindsey Graham may or may not believe these right-wing talking points he is spewing. But Brennan and her producers are giving him an unchallenged, unedited forum for spewing them, casting further doubt in the public's mind about these questions long after they have been thoroughly litigated and settled by congressional investigations and hearings.
For all the talk about mainstream media bias, it's noteworthy that at the same time as the Graham interview, Trump advisor Stephen Miller was getting more pushback on Trump's national emergency declaration from Chris Wallace on Fox News. Wallace seemed prepared. CBS seemed more interested in just promoting an interview on another program. If the network is going to do that, it should not enlist partisans like Graham to help.
Watch the entire interview at the top of the post.