Roger Stone Attacks Judge Overseeing His Case, Shares Photo Of Her Next To Crosshairs [UPDATE]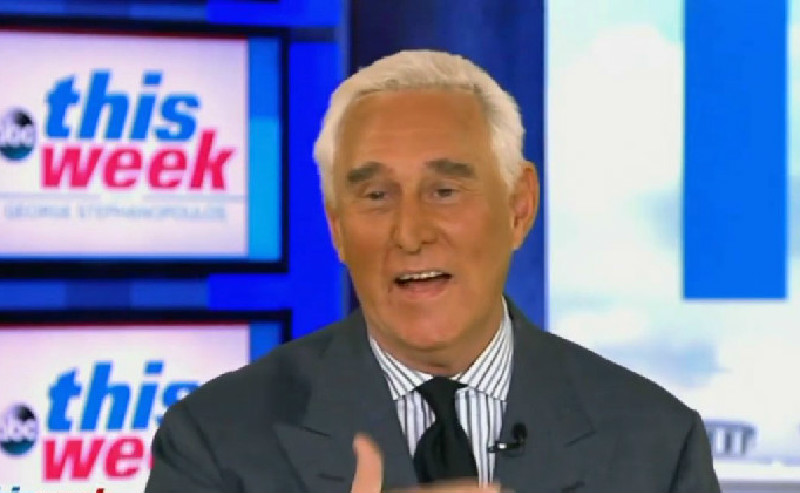 Longtime Trump adviser and political dirty trickster Roger Stone likely did himself no favors in his upcoming criminal trial after he publicly attacked the judge presiding over his case while posting an image on social media that appears to show crosshairs next to a photo of Judge Amy Berman Jackson.
In an Instagram post that has since been taken down, Stone pleaded for money to his legal defense fund by telling his followers that "Deep State hitman Robert Mueller" had guaranteed his "show trial" would be overseen by Jackson. He further complained that Jackson had been appointed by President Obama and that she didn't charge Hillary Clinton with crimes regarding the Benghazi attack.
This was shared alongside an image of Jackson with what appears to be crosshairs over her head.
Jackson recently placed a gag order on Stone and his lawyers "for the parties and the witnesses must refrain from making statements to the media or in public settings that pose a substantial likelihood of material prejudice to this case," though noting that his ability to speak publicly on the case wasn't completely restricted. After the gag order was placed, the special counsel prosecutors noted in a court filing that they had evidence of Stone communicating with both WikiLeaks and Guccifer 2.0.
As well as placing the gag order on Stone, who has been charged by Mueller with witness tampering, obstruction, and making false statements, Jackson denied Stone's request to get a new judge assigned to his case. Stone tried to argue that his case is not related to the Russian hack of Democrats during the 2016 presidential election.
Meanwhile, attorney and legal writer Ken White noted on Twitter that Stone will not be able to get a new judge assigned to his case by publicly insulting Jackson.
By the way, because it looks like it will come up again thanks to Roger Stone: no, you can't get a new federal judge by insulting your current judge and then claiming resulting bias. https://t.co/NagrKmKeOY

— EmergenHat (@Popehat) February 18, 2019
Meanwhile, it appears the image first originated on a little-known blog that seems to be a big fan of Stone's:
The source of the district judge photo that Roger Stone shared on Instagram appears to be a February 4 post on (and I wish I was kidding) https://t.co/zyuFHeJICZ.

That site also happens to have a section titled "Roger Stone Speaks" and denounces Stone's 2017 Twitter ban. pic.twitter.com/T0TRZexpYN

— Travis View (@travis_view) February 18, 2019
UPDATE: Stone texted The Daily Beast's Betsy Woodruff about the image, stating that it is the logo of a group called 'Corruption Central' that originally posted the photo.
Roger Stone texts me that the crosshairs in his Instagram post are the logo of a group called "Corruption Central" pic.twitter.com/LFG24vGp0M

— Betsy Woodruff (@woodruffbets) February 18, 2019
Tribune Media's Scott Gustin noted that the pro-Stone blog where the image originated is part of a template the site uses:
yep. That image was first posted online back in 2014. It's clearly a template used by that website. https://t.co/AepYXL1CrW pic.twitter.com/KqiFqMZ2ap

— Scott Gustin (@ScottGustin) February 18, 2019
Gustin added that he was not defending Stone's use of the image, noting that the conservative operative should have obviously picked another photo, but merely providing additional info about the photo's origin.
Earlier in the afternoon, Stone told CBS News' Kathryn Watson that any "inference that this in someway threatens the judge is false" but he took down the image because it is open to "miss interpretation." (Yes, that's how he spelled it.)
Roger Stone texts me this in response to my inquiry about his Instagram post of Judge Amy Berman Jackson that featured crosshairs in the background: pic.twitter.com/smh8bs4JD2

— Kathryn Watson (@kathrynw5) February 18, 2019
He also told Watson the image was just a random one he found on the internet — from a blog full of pro-Stone content, mind you — and that the crosshairs were just a "symbol of some type."
UPDATE #2: Stone's lawyers filed an official apology to the court for the Instagram post. Yeah, that's a thing that actually happened.
Roger Stone's attorneys have just submitted a court filing …apologizing for his Instagram post today that targeted Judge Amy Berman Jackson. pic.twitter.com/YkQqVim7e7

— Natasha Bertrand (@NatashaBertrand) February 19, 2019