Fox Media Analyst On Jussie Smollett: 'Most News Organizations Actually Acted With Restraint'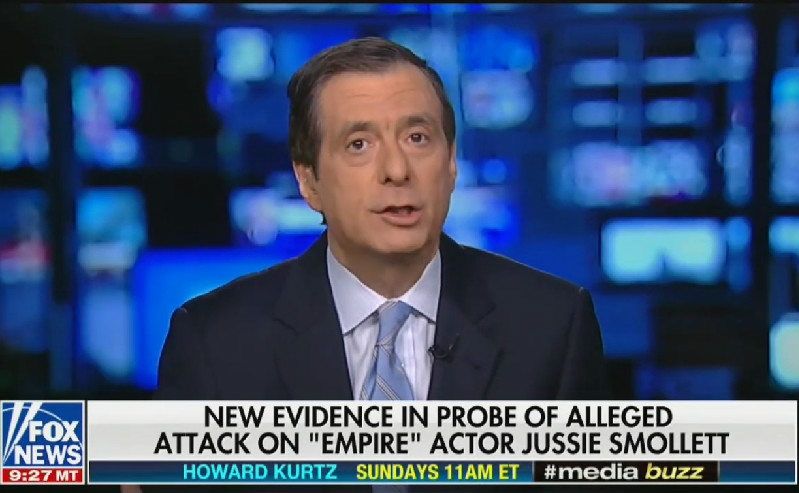 Fox News media analyst Howard Kurtz credited the majority of news outlets with reporting on the alleged attack on actor Jussie Smollett with restraint, saying that they had to report on the facts as they came out but couldn't go down the road of openly questioning Smollett's story until reporting fleshed out all of the red flags.
With several media organizations, including CNN, reporting over the weekend that police are now looking at the likeliness that Smollett orchestrated the assault by paying two brothers to pretend to attack him for being gay and black, critics and commentators — largely right-wing — blasted the media as a whole for seizing on Smollett's initial account to push a narrative. However, while a number of writers and journalists did tweet out strong opinions following last month's reports of the attacks, for the most part, serious media outlets carefully reported out the story.
Noting on Fox News Monday morning that "plenty of people" in entertainment, politics, and media rushed to judgment on the case, Kurtz argued that "most news organizations actually acted with restraint."
"A guy who is a star on the Fox show Empire makes these terrible-sounding accusations — you have to report that," he stated. "The Chicago police were taking it seriously and investigating, and you have to report that. Now you and I and many other people in the business knew something about this didn't smell right from the beginning; there were things that didn't add up. But that's not enough to go on the air or write."
Kurtz pointed out that he resisted invitations to do just that earlier because he felt the "situation was so murky." He went on to say that various outlets reported when "red flags came out," such as when Smollett refused to initially hand his phone over to police.
"So we began to see the shift, but until recent days I don't think we had enough evidence to say it was some kind of hoax," Kurtz noted.
America's Newsroom anchor Bill Hemmer brought up remarks by conservatives, notably presidential son Donald Trump Jr., that "Hollywood and the mainstream media" doesn't seem to want Justice for Jussie anymore and that "these incidents are being used to increase hatred."
Kurtz highlighted that the president himself said after the alleged assault was first reported that the attack was horrible while reiterating that an attack on a TV star was going to be big news regardless. Kurtz further explained that when you add "the Trump element" to the story, you make it explosive and it causes a lot of people to toss aside skepticism.
Kurtz concluded by once again stating that news organizations acted with restraint even though "some journalists on Twitter" didn't, stating that they couldn't go any further than where the facts pointed them.
Watch the clip above, via Fox News.