NBC News Reporter: Pence Being Met With Silence In Europe 'Is Embarrassing For the Country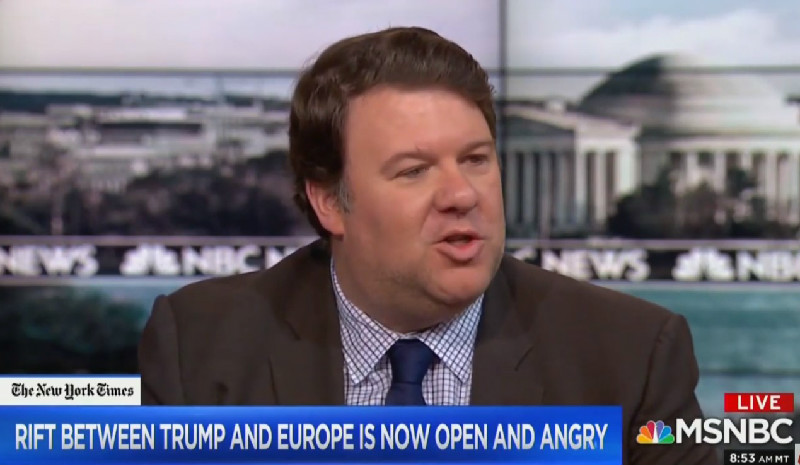 Reacting to the icy reception that Vice President Mike Pence received at the Munich Security Conference this past weekend, NBC News politics reporter Jonathan Allen said that it was "embarrassing" for America that Pence couldn't even get the attendees to give a "golf clap" for President Trump.
Following German Chancellor Angela Merkel, who took Trump to task for breaking for the Iran Nuclear Deal, Pence told the conference that he was there on behalf of a "great champion of freedom and of a strong national defense." He added: "I bring greetings from the 45th president of the United States of America, President Donald Trump."
Pence then waited for a few seconds for applause. Applause that never came. A copy of the veep's prepared remarks clearly notes an "applause" break after the line.
Discussing Pence's speech on MSNBC Monday morning, Allen pulled no punches, asserting this revealed how much damage has been done to the relationship with America's European allies since Trump took office.
"Oh, my God, Hallie," Allen exclaimed to host Hallie Jackson. "I mean, this is the Munich Security Conference. The President of the United States not getting even a clap, not even a polite golf clap, it is unheard of."
He continued: "It is embarrassing for the country. To the extent that other countries are looking for ways to talk to the president, it appears the only way to have good relationship with him is like Shinzo Abe of Japan, nominate him for a Nobel Peace Prize."
Allen went on to say that this is bad for the United States in the long run because it appears that long-term allies don't "feel good about us at all," noting that they aren't even willing "to give polite applause to the vide president mentioning greetings from our president."
Following the conference, a senior German official told the New York Times that "no one any longer believes that Trump cares about the views or interests of the allies. It's broken."
Watch the clip above, via MSNBC.