Panic And Global Chaos: Media React To James Mattis' Resignation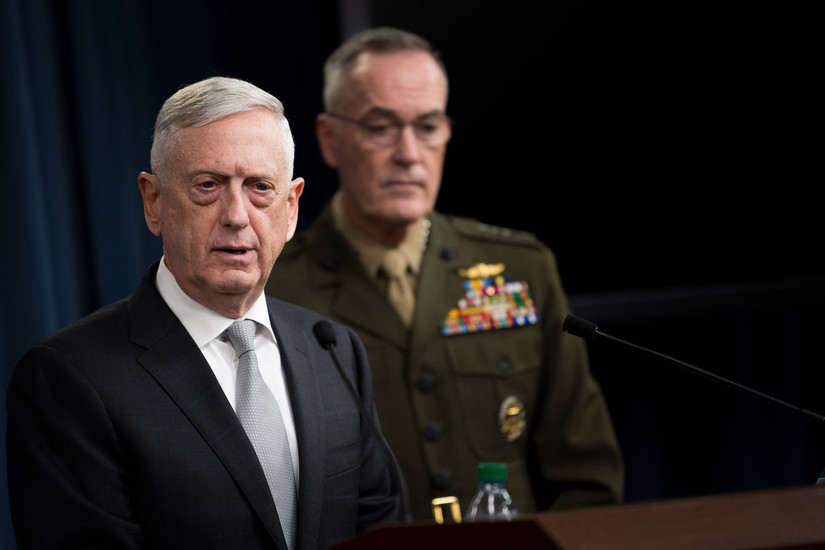 Defense Secretary James Mattis is widely seen as the last adult in the Trump White House, so his decision to resign has caused serious worry at home and abroad. His resignation comes as the Trump administration announced it would withdraw troops from Syria and perhaps Afghanistan.
Mattis voiced his concerns about President Donald Trump's policies in his resignation letter, but it is unlikely he will make any public statements about the President until he leaves the Defense Department in February. Trump has always had an unconventional view of US foreign policy, and many commentators now believe he will be 'unleashed.'
CNN's Stephen Collinson is warning of 'global chaos' in some of the starkest language anyone has used of the administration yet. Mattis' resignation "was a warning that will ring through history about an impulsive President who spurns advice, disdains America's friends and proudly repudiates the codes of US leadership that have endured since World War II."
"Fears of a clash between the US and Chinese navies in the South China Sea, an opportunistic Russia, meltdowns in the Middle East or a sudden global crisis with Trump at the helm were eased by thoughts of the scholar-general in the chain of command," Colinson wrote, echoing many others.
Britain's Independent newspaper warned of panic from US politicians, including members of Donald Trump's own party. Quoting extensively from Republican sources, the newspaper showed that the GOP is legitimately worried about how Trump will behave now.
An anonymous senior national security official is quoted as saying that Mattis was the 'last break' on a President 'that makes major life-and-death decisions by whim without reading, deliberation, or any thought as to consequences and risks.'
Even Republican Senator Marco Rubio, a sometime Trump cheerleader, appeared shaken by Mattis' departure. He tweeted that is was "abundantly clear that we are headed towards a series of grave policy errors which will endanger our nation, damage our alliances & empower our adversaries."
If Trump withdraws troops from Afghanistan, he will have ignored all advice from his own government on the issue. Meanwhile, the government may be heading for a partial shutdown, though Mattis' resignation overshadowed budget negotiations yesterday.