Fox & Friends Host Tears Into Trump: He Has Bernie Sanders' Foreign Policy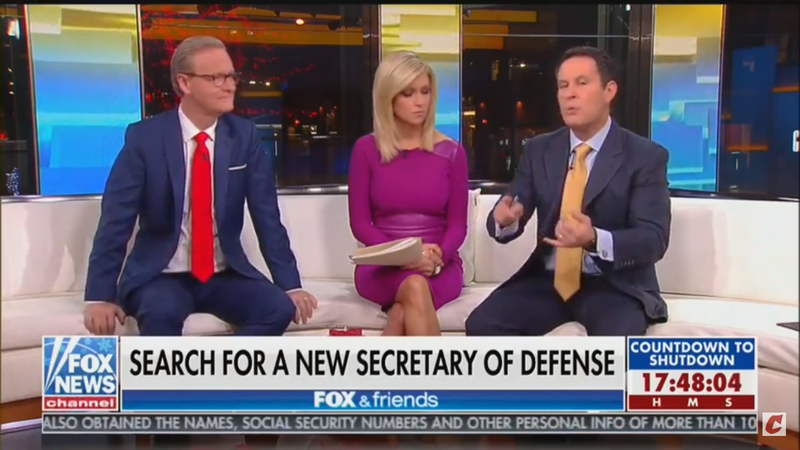 Fox & Friends' host Brian Kilmeade launched a stinging attack on President Donald Trump this morning following the resignation of Defense Secretary James Mattis. Kilmeade, who was in a visibly bad mood on the Fox News show, criticized the President for his decision to pull troops out of Syria and possibly Afghanistan.
"We now have Rand Paul as Secretary of Defense and Secretary of State," Kilmeade said. "This is Rand Paul's foreign policy. Rand Paul, to his credit, is true to his school. This is Rand Paul getting to the President, saying 'Pull out everybody, we don't want to waste any money and time and have any influence.' We are turning over."
Co-host Steve Doocy, apparently disturbed by Kilmeade's tone, tried to jump in: "The President ran on this."
"Let me finish," Kilmeade insisted. "If we wanted to elect Rand Paul, he would have got nine votes nationally. He could be Secretary of State for Kentucky. That's it. The President of the United States is looking past all of his advisers and going with Bernie Sanders and Rand Paul. If you're OK with that, congratulations, that's the foreign policy."
"But that was the foreign policy he ran on as a candidate" Doocy said again.
"No, he wanted to defeat ISIS and we're not," Kilmeade insisted.
Co-host Ainsley Earhardt tried to defend Trump's decision: "The war in Afghanistan, though, has been going on for 17 years. When I read this, all I thought about were the family members, when their kids are over there and they're probably thrilled to hear some of this. You don't want to pull out too soon, but you do think about the families."
"Good point," Kilmeade said. "But I also think of those people on the 55th floor who were burned alive or jumped for their lives because it's the same mindset, we're letting them … take root again."
Kilmeade invoked 9/11 to criticize the President's foreign policy, suggesting his decision to pull troops from Syria and Afghanistan could endanger American lives. This is a serious rebuke from a Fox News personality and could indicate a gradual move away from the network's previous pro-Trump position.