Media Reporter Behind God-Awful Ocasio-Cortez Tweet Has History Of Being Creepy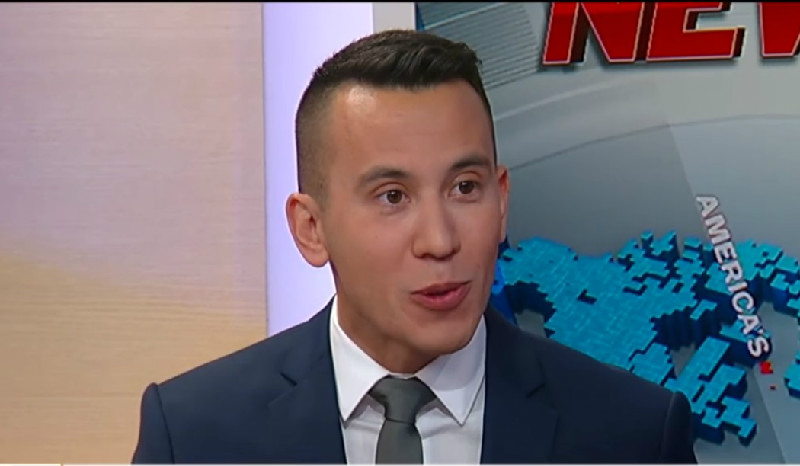 If you were offline this afternoon, you missed a tweet so exquisitely and jaw-droppingly bad that the ratio reached heights we hadn't seen before…and may never witness again.
Deciding it was a good idea to post a creep shot of newly-elected Democratic Congresswoman Alexandria Ocasio-Cortez's backside, Washington Examiner media reporter Eddie Scarry claimed that a "Hill staffer" sent him the picture and commented on what Ocasio-Cortez was wearing, saying "jacket and coat don't look like a girl who struggles."
After getting mercilessly dunked on by basically all of Twitter, including the Dem Socialist lawmaker herself, Scarry eventually deleted the tweet. Deleting it didn't make things any better, though. For her part, Ocasio-Cortez blasted him for being misogynist and not apologizing to her.
Oh, does @eScarry think he can delete his misogyny without an apology?

I don't think so. You're a journalist – readers should know your bias. pic.twitter.com/2KJuiPsUR2

— Alexandria Ocasio-Cortez (@Ocasio2018) November 16, 2018
And his excuse was also ratio'd into oblivion.
ATTN! I posted a tweet earlier suggesting the incoming congresswoman looked well put together — ELEGANT even — despite suggestions she's struggled. The tweet was taken as something else, so I've deleted it!

— Eddie Scarry (@eScarry) November 16, 2018
While the initial tweet seemed to be an attempt to somehow portray Ocasio-Cortez as being dishonest about her current financial situation because she was wearing normal professional clothing and not literal rags, the stealthy nature of the photo fit into a pattern of behavior for Scarry.
See, he has a history of taking creepy pictures of women and making inappropriate remarks online.
Back in 2012, then-Washington City Paper writer Will Sommer (he's now with the Daily Beast) wrote about Scarry's habit of taking "surreptitious fetish shots." Sommer noted that Scarry, then with gossip blog Fishbowl D.C., was being left "unsupervised" because lead editor Betsy Rothstein was on vacation.
Betsy Rothstein, the editor of media blog Fishbowl D.C., has a fondness for announcing that various women are tramps. But with Rothstein on vacation from Fishbowl this week, a surprising truth has come out: Rothstein is the least offensive person writing for her site.
First up is contributor Eddie Scarry, already an intriguing figure because of his role in Fishbowl's growing oeuvre of surreptitious fetish shots. Around White House Correspondents Dinner time, Scarry took some shots of unknown men and womens' butts and categorized them ("particularly bulbous"). More recently, he tweeted a picture of a woman's foot because she had a bunion. In other words, maybe not the best person to leave unsupervised.
The following year, the Observer devoted a whole article to Scarry's reputation as a creeper, reporting that a number of PR folks and media outlets were on "high alert" as the White House Correspondents' Dinner approached, concerned that Scarry would be snapping pictures of women's posteriors. The article highlighted a number of his lowlights. For instance:
The Observer has also discovered an instance in which Mr. Scarry tweeted a cryptic joke about date rape, in which he linked to a picture of his naked torso. "Woke up with this curious laceration on my side. Was I date raped?!" Mr. Scarry asked. Only one person responded to this curious tweet: an acquaintance of Mr. Scarry's from his college days at Winthrop University, who tweeted back: "TMI! TMI! TMI!"
They weren't exaggerating about Scarry's behavior back in the day, either. A scan through the media reporter's Twitter account shows that he loves to creep on folks and say cringeworthy stuff.
Take a look:
Just saw a very special person outside SCOTUS. Don't want to give it away but here's her butt pic.twitter.com/xig4ic9a6n

— Eddie Scarry (@eScarry) March 26, 2013
Check out the bunyon on this otherwise cute woman's foot. pic.twitter.com/PseeNzSG

— Eddie Scarry (@eScarry) August 16, 2012
I dunno, are the children hot? https://t.co/c1okK77Hvq

— Eddie Scarry (@eScarry) December 23, 2017
The Brawny Woman tans, dyes her hair honey chestnut and wears a light cherry lips stick before wiping her ass. https://t.co/JwrMIdQNM4

— Eddie Scarry (@eScarry) March 5, 2017
If I go into a bathroom and a woman has been in before me, I hold my breath.

— Eddie Scarry (@eScarry) August 28, 2009
Watching this Hispanic woman deal with her 2 kids is causing me so much anxiety. And to schedule my vasectomy.

— Eddie Scarry (@eScarry) January 4, 2011
Until Mo said it, I wasn't aware there was an "angry black woman" stereotype. I thought they all just said "girlfriend" a lot.

— Eddie Scarry (@eScarry) January 13, 2012
Woman at Starbucks wearing top that doesn't quite cover her whole stomach. Unintentional. I wonder if she has a tan line across her middle.

— Eddie Scarry (@eScarry) June 5, 2012
Anyway, just a normal guy having a totally normal one.