Watch: 'Millennial Vape Fanatic' Tommy Smokes Trolls Fox's Laura Ingraham Live On Air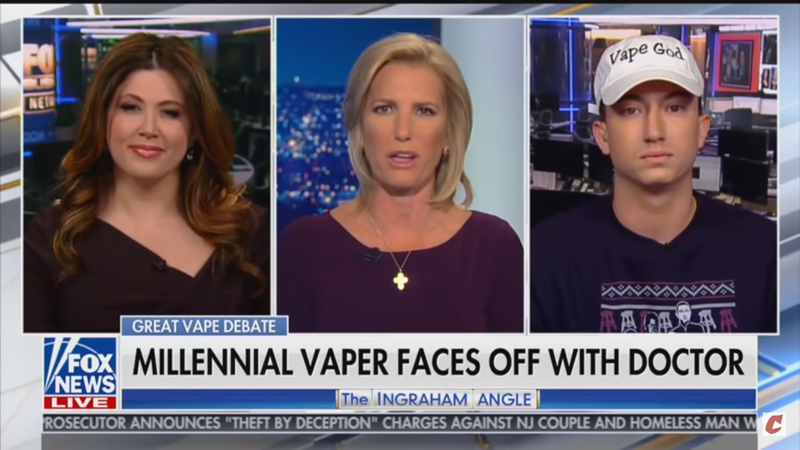 Laura Ingraham was the victim of a prank last night. On her Fox News show, Ingraham hosted 'millennial vape fanatic' Tommy Smokes for a discussion of new FDA regulations on vaping with Dr. Janette Nesheiwat. Unfortunately for The Ingraham Angle, 'Tommy Smokes' was a fictional character.
The 'vaping fanatic' was in fact Tom Scibelli, a host from Bartstool Sports, a popular blog. Scibelli hosts a podcast and only started vaping two days before the broadcast, according to another person at Barstool Sports. However, Ingraham's show appeared to believe his act was genuine.
'Tommy Smokes' wore a 'Vape God' hat and spent the segment defending vaping in the most ridiculous way he could think of. Fox News probably booked Scibelli based on an Instagram post where Smokes does 'sick Juul tricks'.
"I'm 22 years old," Scibelli said. "I'm using them legally and honestly they are cool. You rip them. There is nothing cooler than blowing a fat cloud like that. They call me the Colossus of Cloud. It helps my swag. It helps my drip. I love walking around. It's really good for getting chicks."
Following the segment, it became clear very quickly that Scibelli was playing a character. Scibelli is now called Tommy Smokes on Twitter and he tweeted about his experience, clearly showing that he had been trolling Fox News.
"The producer got in my ear at one point and said 'you can stop vaping'" he tweeted. "I didn't stop #VapeGod."
"Walked out of the room. Lady asked for my full name. Turned to someone else and said 'did we do any research on this kid?'" Scibelli added, showing that Ingraham's producers realized they had booked someone without fully researching them.
Another Barstool Sports host, Robbie Fox, mocked Fox News for not doing its research.
"Some would argue sending Tommy Smokes, who just this week asked – 'Can you overdose on Juul?' – on this kind of show in-character as a 'vaping fanatic millennial' and debating a doctor on the safety of vaping makes a mockery of said show, but hey get upset anyway amirite," he tweeted.