Maddow Leads Cable News Ratings Across The Board Wednesday, Hannity Finishes Third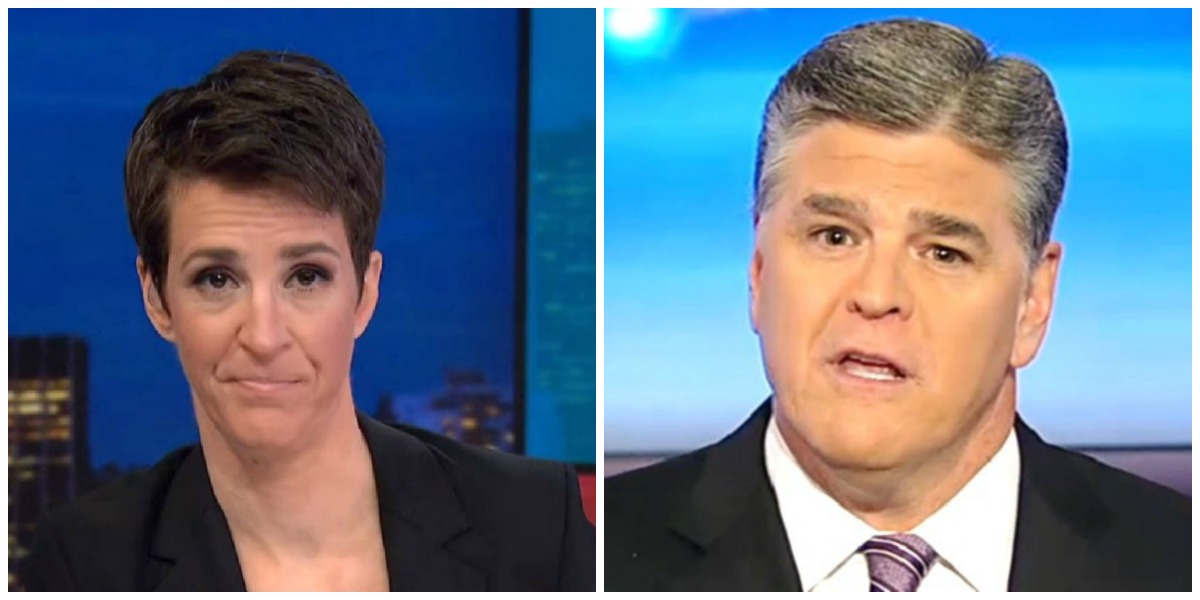 MSNBC's The Rachel Maddow Show continued its winning ways on Wednesday night by leading cable news across the board and boasting the most total viewers in cable television. Meanwhile, normal cable news ratings champ Sean Hannity slipped to third place for the day.
According to Nielsen, Maddow topped cable news in the key 25-54 demographic (592,000) and total viewership (3.188 million). The 9 PM MSNBC show was the only cable program of the day to top three million viewers overall. Fox's Hannity, Maddow's head-to-head competitor, placed third in both the demo (506,000) and total viewers (2.884 million).
In the primetime 8 PM to 11 PM hours, Fox News averaged 2.780 million viewers overall and 517,000 in the key demographic. MSNBC attracted a demo audience of 445,000 and 2.504 million total viewers. CNN pulled in a total audience of 1.406 million and 400,000 in the 25-54 metric.
In the 9 AM to 5 PM daytime slot, Fox drew 1.503 million viewers overall and 266,000 in the key demo. CNN captured 247,000 in the demo and 907,000 viewers overall. MSNBC nabbed 1.120 million total viewers and 168,000 in the demographic.
Fox News' Tucker Carlson Tonight finished second in both the demo (569,000) and total viewership (2.975 million). Fox's The Five took fourth place in total audience (2.633 million) and FNC's The Ingraham Angle placed fourth in the demo (476,000).
CNN's top-rated program of the day was Cuomo Prime Time, which drew 1.468 million total viewers. The 10 PM broadcast of CNN Tonight led in the demo with 436,000.