Maddow Defeats Hannity Head-To-Head Tuesday Night, Tops Cable TV In Total Viewers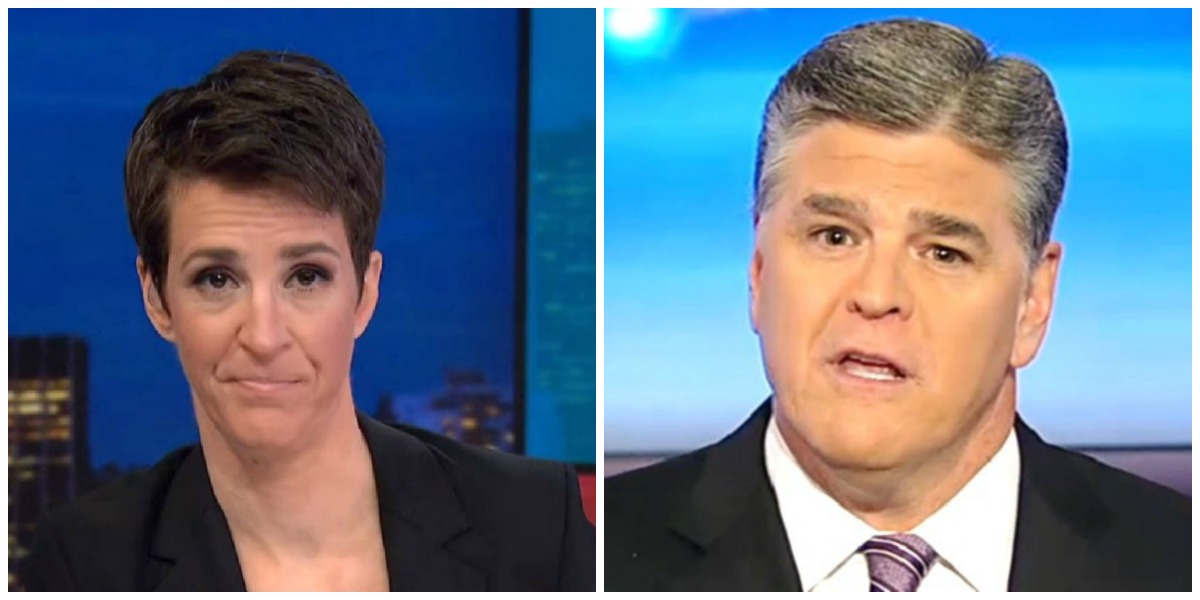 Following last week's midterm elections that resulted in Republicans suffering significant losses in the House and governors' races, MSNBC and CNN have closed the gap with Fox News, which had ridden a wave of ratings dominance after the Brett Kavanaugh hearings. And this has resulted in MSNBC star Rachel Maddow finding her way back to the top of the cable news heap.
According to Nielsen, The Rachel Maddow Show was the most-watched show in cable television Tuesday night with 3.157 million total viewers. Facing off against cable news' top-rated show, Fox News' Hannity, Maddow won the 9 PM time slot in total viewership and the key 25-54 demographic (560,000). Hannity, meanwhile, pulled in 2.818 million total viewers and 522,000 in the demo.
In the primetime 8 PM to 11 PM hours, Fox News averaged 2.680 million viewers overall and 512,000 in the 25-54 demographic. CNN attracted a demo audience of 451,000 and 1.298 million total viewers. MSNBC nabbed a total viewership of 2.553 million and 432,000 in the demo.
In the daytime 9 AM to 5 PM slot, Fox News captured a total audience of 1.493 million and 293,000 in the key demo. CNN grabbed 254,000 in the demographic and 954,000 viewers overall. MSNBC averaged 1.120 million total viewers and 186,000 in the 25-54 metric.
Fox's Tucker Carlson Tonight led cable news in the key 25-54 demo with 596,000 while placing third overall in total viewership (2.740 million). MSNBC's The Last Word with Lawrence O'Donnell led its 10 PM time slot in total viewers (2.511 million), finishing fifth overall.
CNN experienced solid ratings for its Election Night redux in primetime, leading the 10 PM hour in the key demographic (445,000). The top-rated hour was 9 PM, which drew 471,000 demo viewers and a total audience of 1.375 million.