Tapper On John Kelly Firing Sessions: Trump 'Never Has The Stomach' To Say 'You're Fired'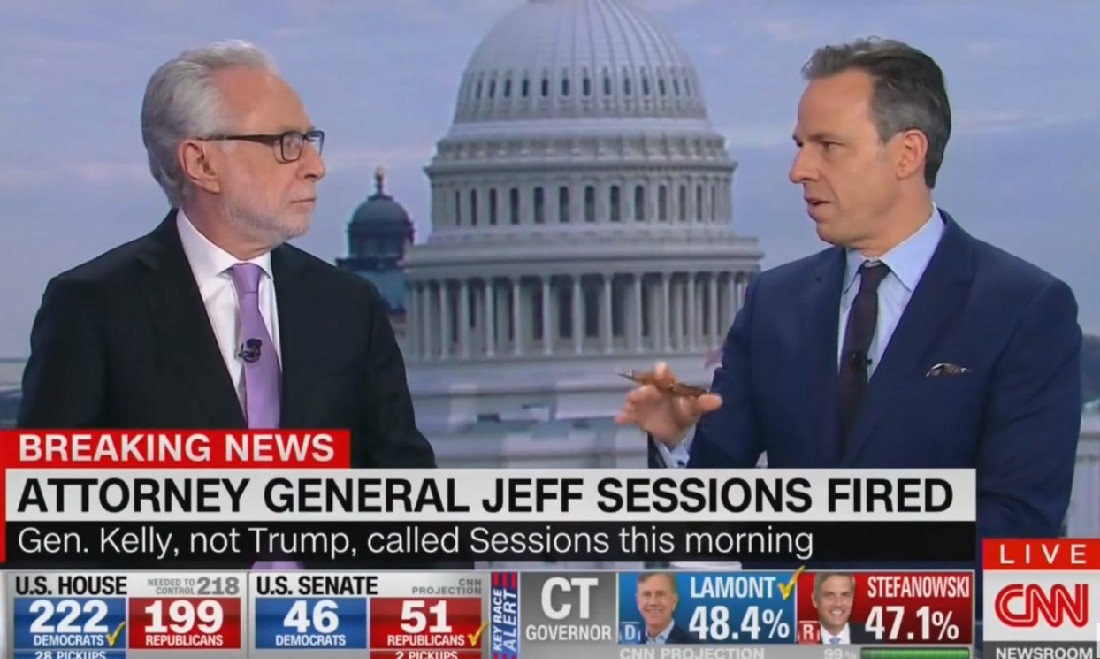 In the middle of an already insane news day following a highly-watched midterm election, President Donald Trump threw a lit match into the powder keg by announcing on Twitter that Attorney General Jeff Sessions had resigned. Shortly after, when Sessions' resignation letter was made public, it was evident that the AG didn't quit but was actually fired.
Jeff Sessions did not date his resignation letter. Unbelievable. pic.twitter.com/uvYB6J4QQV

— southpaw (@nycsouthpaw) November 7, 2018
CNN's Laura Jarrett reported moments later that the president did not even call Sessions to ask for his resignation or fire him. Instead, he sent White House Chief of Staff John Kelly to do it. The now-former attorney general handed his resignation letter to Kelly, resulting in Trump's announcement that Sessions' chief of staff, Matthew Whitaker, would take over as acting attorney general.
Reacting to this news, CNN anchor Wolf Blitzer noted that the president "didn't even have the courtesy to call him up" and tell him it's over. Fellow CNN anchor Jake Tapper pointed out that for all of his bluster, Trump prefers to let others do the dirty work.
"It's the grand irony of the Trump presidency that somebody who is best known for the catchphrase 'You're fired' actually, in real life, never has the stomach to actually say it to anybody," Tapper declared. "Whether it is James Comey or Omarosa or now Attorney General Jeff Sessions."
Besides those examples Tapper listed, there was also the case of former Secretary of State Rex Tillerson, who found out he was fired via tweet.
Meanwhile, just before Whitaker joined the Justice Department, he wrote an op-ed for CNN saying the Mueller investigation had gone too far and called for Deputy Attorney General Rod Rosenstein "to order Mueller to limit the scope of his investigation to the four corners of the order appointing him special counsel."
Now, Whitaker is in charge of overseeing the Mueller probe, taking over for Rosenstein.
Watch the clip above, via CNN.