Jake Tapper: 'This Is Not A Good Night' For Trump, Dems 'Will Make His Life A Living Hell'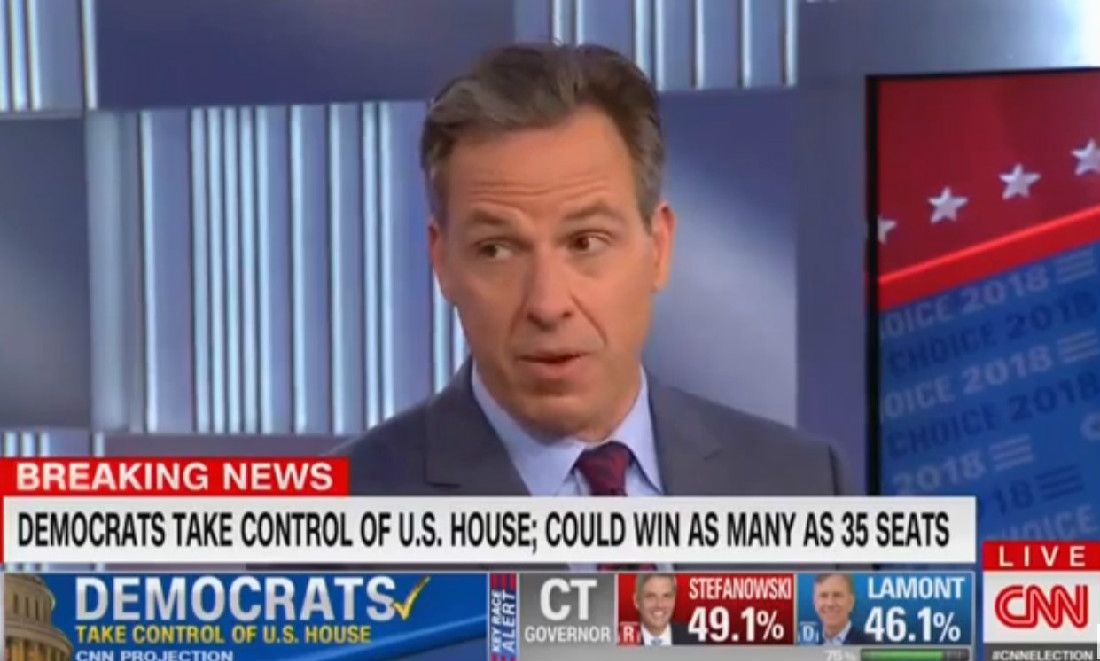 While President Donald Trump claimed that Election Night was a "tremendous success" as Republicans retained the Senate and likely picked up some seats, CNN anchor Jake Tapper poured cold water on the president's boast as he pointed out that Democrats retook the House and will make things extremely uncomfortable for POTUS.
Tremendous success tonight. Thank you to all!

— Donald J. Trump (@realDonaldTrump) November 7, 2018
After Wolf Blitzer noted that when it comes to the Senate it was a "huge success" for the president, Tapper interjected. "Let's just cut through that for a second — He just lost the House," he noted.
"But he did manage to hold the Senate," Blitzer responded, causing Tapper to toss out a sarcastic "mazel tov."
"This is not a good night for President Trump," Tapper added. "The Democrats have just retaken the House and they are going to have subpoena power and they're going to make his life a living hell. That's the bottom line."
The Lead host went on to highlight the number of high-profile Democrats who will take over the chairs of key committees that will look into investigating the president, pointing out that Democrats are going to get a hold of Trump's tax returns. In fact, Congressman Elijah Cummings, who is poised to take control of the House Oversight Committee, has already said those taxes are in his crosshairs.
"They are going to get President Trump's tax returns," Tapper asserted. "They're going to get them. They're going to subpoena them. They're going to get them. And that is not something president — President Trump has done everything he could to prevent that from happening."
Watch the clip above, via CNN.