Fox's Chris Wallace Calls Out Laura Ingraham For Mischaracterizing Election Results As Trump Victory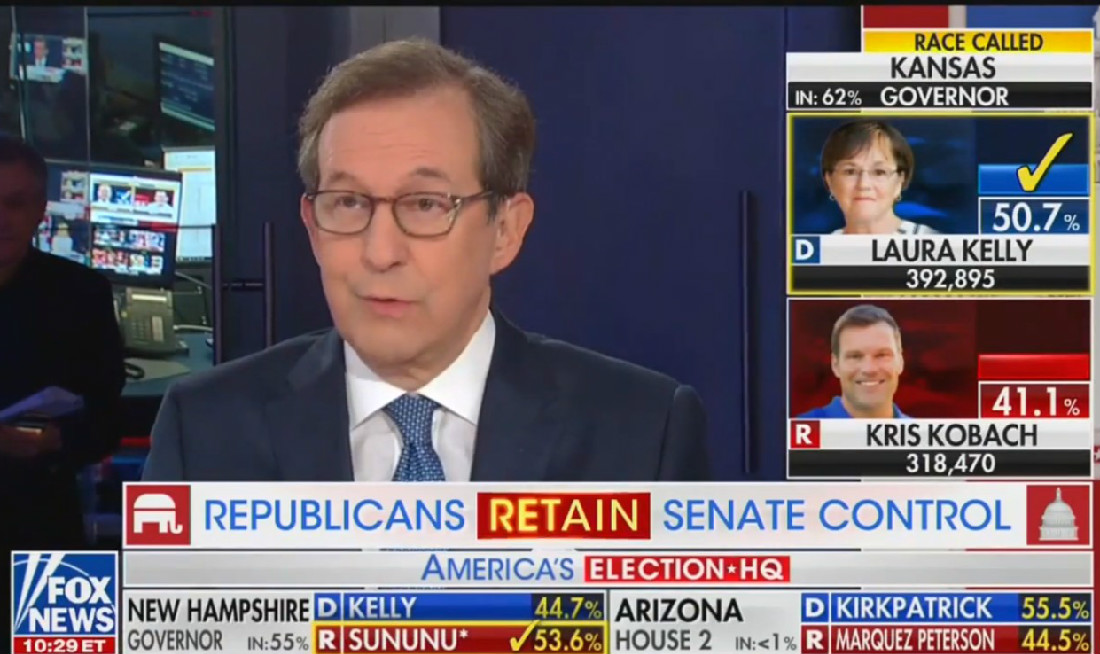 With Republicans taking a beating in the House and losing several gubernatorial races while subsequently retaining majority control of the Senate, the Fox News news and opinion/entertainment divisions butted heads on air when anchor Chris Wallace pushed back against host Laura Ingraham's characterization of the night as a big win for President Donald Trump.
After Ted Cruz sweated out a razor-thin win against insurgent Democrat Beto O'Rourke in the Texas Senate race, Ingraham gave all the credit to Trump for campaigning for the incumbent.
"I believe if Donald Trump hadn't done that massive rally in Texas last week, and hadn't been there and Donald Trump Jr., which no one talked about, he went all over the country and I think he had a big impact on the race as if the president hadn't done those rallies in some of these key areas, I don't know if Ted Cruz would have won," Ingraham declared.
She went on to say that Republicans now realize they need to get behind Trump's "conservative populism" before painting the Democrats as in disarray and nothing more than the "Ocasio-Cortez party," leading Wallace to interject.
"I don't think that's a fair thing to say about the Democrats," the veteran newsman strongly stated. "I think that's a complete mischaracterization."
Ingraham seemed to dismiss Wallace at that point, resulting in the anchor sternly rebutting her, explaining that if you look at the Democrats winning in the House races, you see a number of "women with intelligence or military credentials" and not just far-left liberals.
"You know, if you're going to give the Republicans credit for holding on to the Senate, then I think you have to give Democrats credit for actually flipping the house," he concluded.
Watch the clip above, via Fox News.