Michael Eric Dyson Goes OFF On Kanye: 'This Is White Supremacy By Ventriloquism'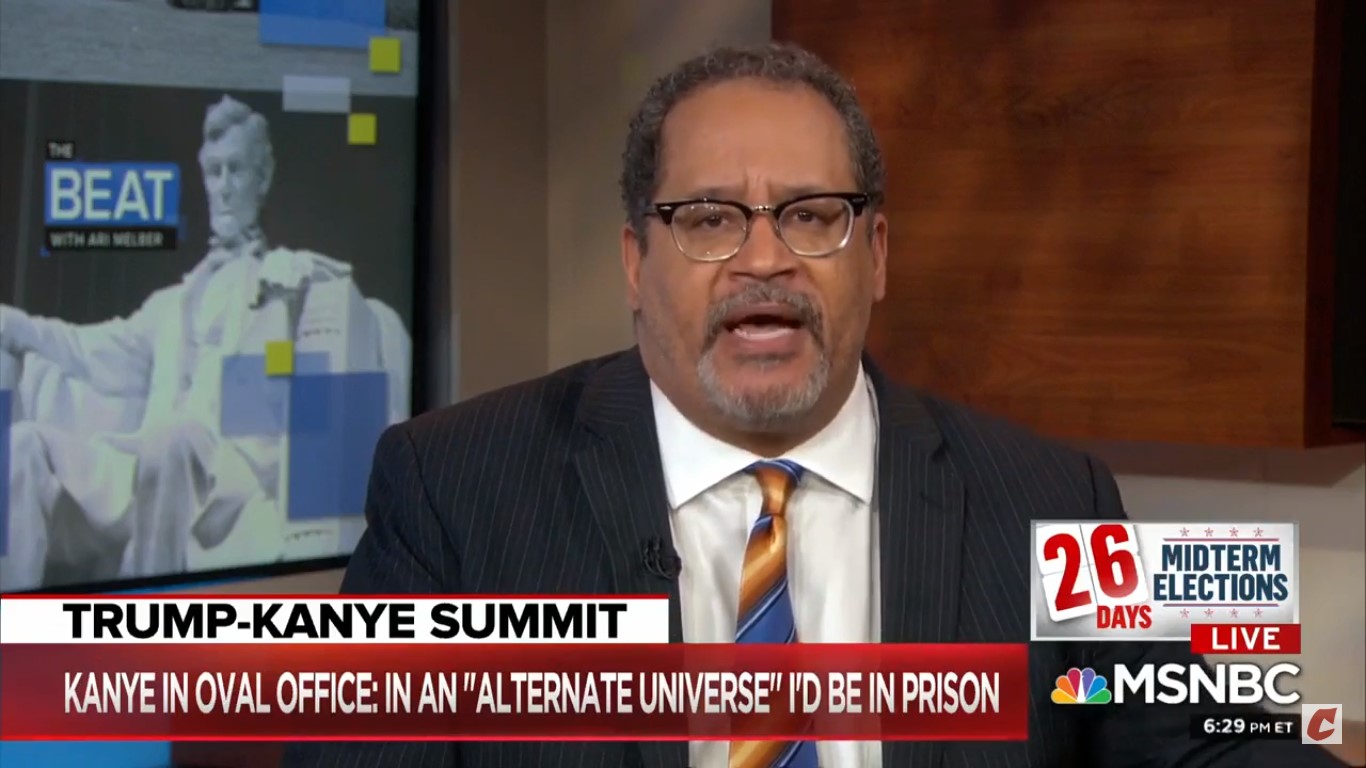 In the aftermath of rap superstar Kanye West's off-the-rails and incoherent meeting with President Donald Trump that had to be seen to be believed, professor and prolific author Michael Eric Dyson went absolutely off on the whole thing while claiming that the president was treating the 'Gold Digger' artist like a puppet.
Appearing on MSNBC's The Beat with Ari Melber, Dyson was asked about West's offer to bring Colin Kaepernick to the White House and the fact that many African-American leaders — including Dyson himself — said that they weren't going to do that.
"We are not doing that because it doesn't make sense," Dyson noted. "We're not doing that because we have not reduced the complexity and complication of public policy to personalities."
After highlighting an exchange where West apologized for putting Trump "on blast" over stop-and-frisk, the professor described the exchange as "a blitzkrieg of blathering ignorance" while adding that he considers the hip-hop artist a dear friend.
He went on to say that African-Americans cannot sit idly by while Kanye gives "cover to a man who was proved to be a white supremacist" before laying out real issues facing minorities that neither man seemed all that concerned with addressing.
"Voter fraud is going on among indigenous people and Native Americans in this country — and African-American people," Dyson exclaimed. "Look at what's happening with Stacey Abrams in Georgia, and yet here are we concerned with the narcissistic reproduction of the self-image of one black man and another white man and in the balance, weighs the future of our democratic process. And neither of them have the capacity, the competence, nor the compassion to deal with this in serious fashion."
Melber later asked Dyson about Kanye dismissing Trump's history of racism, causing the author to essentially call West a puppet.
"This is white supremacy by ventriloquism," he declared. "A black mouth is moving, but white racist ideals are – are flowing from Kanye West's mouth. Kanye West is engaging in one of the most nefarious practices yet, a black body and brain are the warehouse for the articulation and expression of anti-black sentiment that have been chin checked by people with far more rigorous credentials."
Towards the end of the segment, Dyson lamented that "this Kanye is a Kanye who is Kanye Mess — not Kanye West — not Kanye at his best and that's the real tragedy for my dear friend and great artist."
Watch the clip above, via MSNBC.