Fox's Ainsley Earhardt Walks Back Claim That Trump Is Considering Pardon For Manafort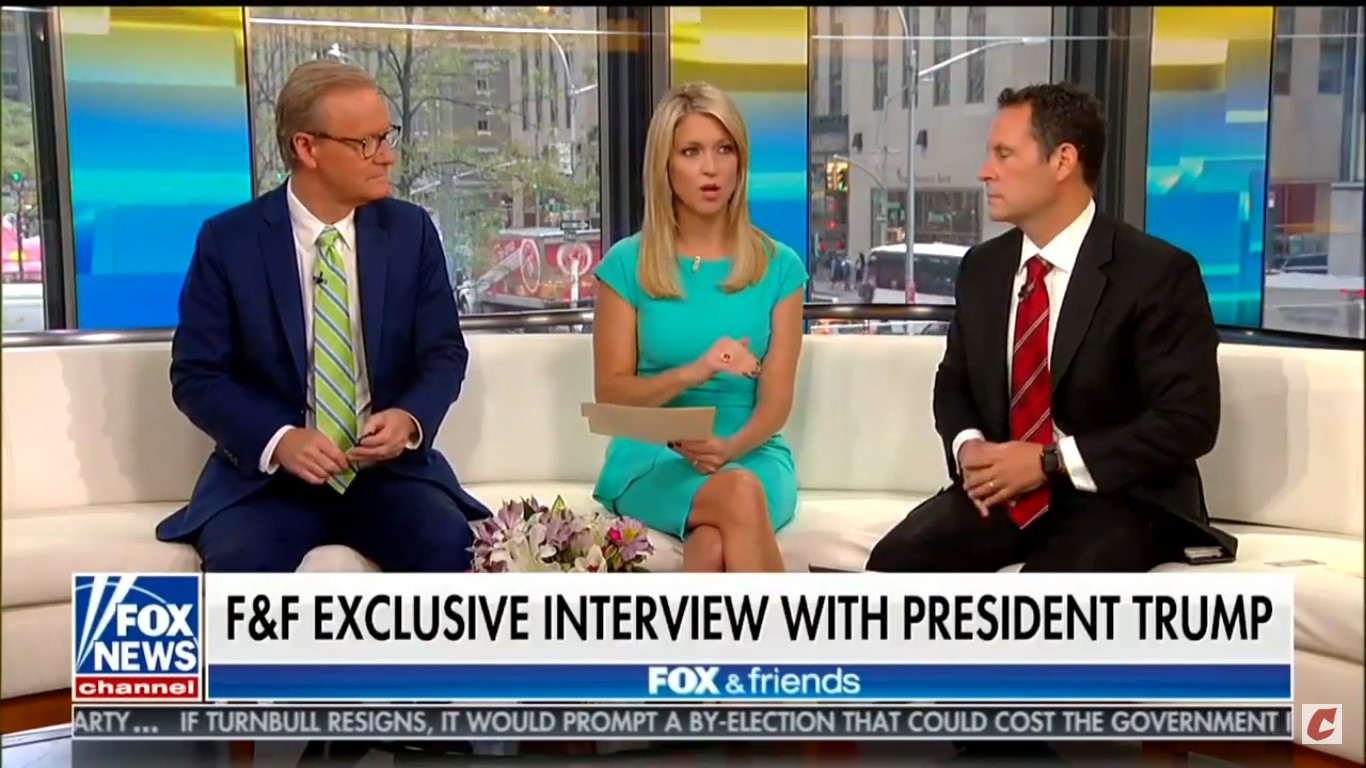 While promoting her exclusive interview with President Donald Trump that aired in its entirety on Thursday morning, Fox News host Ainsley Earhardt told colleague Sean Hannity Wednesday night that Trump told her he was considering a pardon for former campaign chair Paul Manafort.
"He mentioned pardoning Manafort," she said. "He did. He said that he would consider that. He feels, I think — I think he feels bad for Manafort."
This caused alarm bells to go off in the media as it appeared that Earhardt broke some major news that could cause quite a bit of turmoil in Washington. By Thursday morning, however, the Fox and Friends host was walking back that bombshell claim.
While discussing her Trump interview with her fellow co-hosts, Earhardt clarified that the president didn't actually say that he "would consider" the pardon but that she took it as him thinking about it.
"He never said he was going to pardon Paul Manafort but it sounded like to me that he might be considering it," she stated. "But he never said yes and he never said no."
Co-host Steve Doocy noted that Earhardt asked Trump the question "but he did not answer."
The interview, which was aired throughout Thursday's broadcast of Fox and Friends, was aired in its entirety with nothing edited out, per a Fox News spokesperson.
"The interview was broken up into parts but the entirety of the questions and answer aired without editing," the spokesperson told Contemptor.
Below is the exchange in which Earhardt and Trump discussed Manafort, per the transcript:
EARHARDT: Are you considering pardoning Paul Manafort?
TRUMP: I have great respect for what he's done in terms of what he's going through. You know, he worked for Ronald Reagan for years. He worked for Bob Dole. He worked I guess his firm worked for McCain. He worked for many, many people many, many years, and I would say what he did, some of the charges they threw against him, every consultant, every lobbyist in Washington probably does.
If you look at Hillary Clinton's person, you take a look at the people that work for Hillary Clinton, and look at the crimes that Clinton did with the emails and she deletes 33,000 emails after she gets a subpoena from Congress, and this Justice Department does nothing about it and all of the other crimes that they've done.
And they look at Podesta. Podesta was supposed to be Manafort on steroids. They made him close up his firm. He was going to be indicted the next day we heard. Never happened. Instead they go after Manafort.
So look, I didn't know Manafort well. He wasn't with the campaign long. They got him on things totally unrelated to the campaign. And by the way, they got Cohen on totally unrelated to the campaign. I'm not involved. I wasn't charged with anything. You know, people don't like to say that, but I wasn't charged.
But when you look at the corruption on the other side, and they refuse to look at anything. When you don't look at Strzok when he said basically we're going to take out the president, the insurance policy and everything else.
You look at Lisa Page, the two lovers back and forth with these horrible, these horrible texts. You look a the kind of talk going on about it's really subversion. And our justice department doesn't do anything about it. And people say oh but you appointed Jeff Sessions.
I said I did but I really feel as long as this is going out I don't have to do this. But I will stay uninvolved and maybe that's the best thing to do.
Watch the clip above, via Fox News.