Giuliani Insists He Never Said Trump Asked Comey To Give Flynn A Break, Tapper Plays Clip Of Him Saying It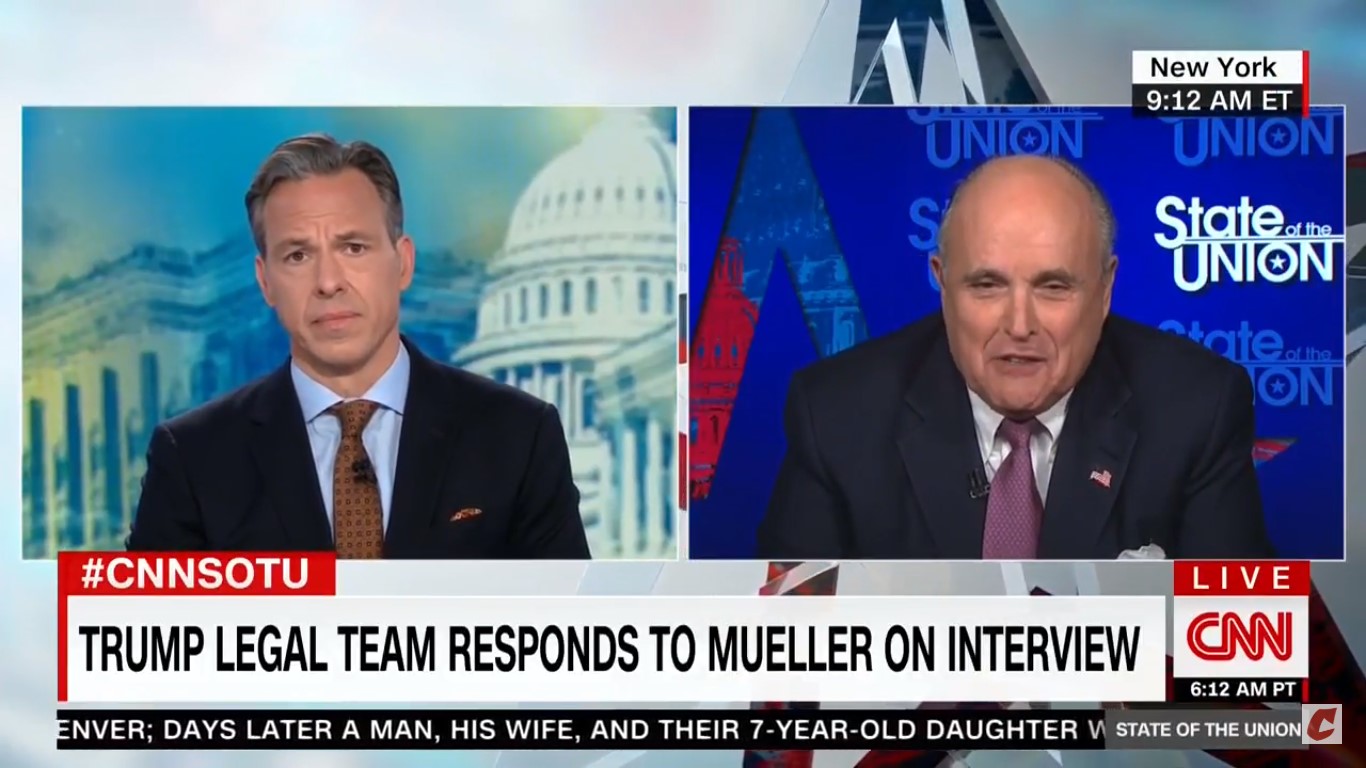 Former New York City mayor and current Trump attorney Rudy Giuliani attempted to claim that he didn't say something he obviously uttered just a month ago. In this instance, however, CNN's Jake Tapper had the receipts and tossed them back in his face, not allowing Giuliani's false denial to go unchallenged.
During Giuliani's State of the Union appearance Sunday morning, the ex-NYC mayor was asked about his comment last month on ABC's This Week in which he said President Trump asked then-FBI Director James Comey if he could give former National Security Adviser Michael Flynn a break.
"I never told ABC that," Giuliani exclaimed. "that's crazy. Never said that. I said that is what Comey is saying Trump said. I have always said the president denies it. It would be easier for me if the president did say that."
He then went on to state that if Trump did ask Comey to go easy on Flynn, it would not represent obstruction before noting that he had people ask this of him all the time when he was a prosecutor.
Tapper asked Giuliani to reiterate that he didn't tell ABC News in July that Trump asked Comey to give Flynn a break. The Trump lawyer again insisted he did not say that.
While the CNN host moved on from there to other questions, he wasn't about to let this obvious falsehood lie. Minutes later, with the tape of Giuliani's ABC interview queued up, Tapper brought it back up.
"I want to play for you — because earlier in the interview I was talking about a comment you made to ABC News a month ago about what exactly President Trump said to Comey," Tapper said. "You're now saying that the president tells you that he said nothing."
Giuliani again insisted that he's been "saying this from the beginning" and that he was "talking about Comey's rendition" before Tapper noted that he wanted to play the sound so the audience understands why he's questioning Giuliani's remarks.
In the ABC News clip, Giuliani tells George Stephanopoulos that he Trump asked Comey "can you give him a break" regarding the Flynn investigation at the time. In response to Tapper, Giuliani offered this excuse:
"I said it but also said before it I'm talking about their investigation of it. Look, lawyers argue in the alternative. I know it's complicated but we've been over it long enough. Why would I say something that isn't true? I mean, the president didn't say to him go easy on Flynn or anything about Flynn. he's saying that I'm talking about their alternative. I'm saying, the conversation never took place. But if it did take place and here's the conversation that's alleged, it is not illegal to have said that. That's what I'm saying."
OK then.
Watch the clip above, via CNN.