Omarosa Shares Tape Of John Kelly Firing Her In Situation Room, Claims He Threatened Her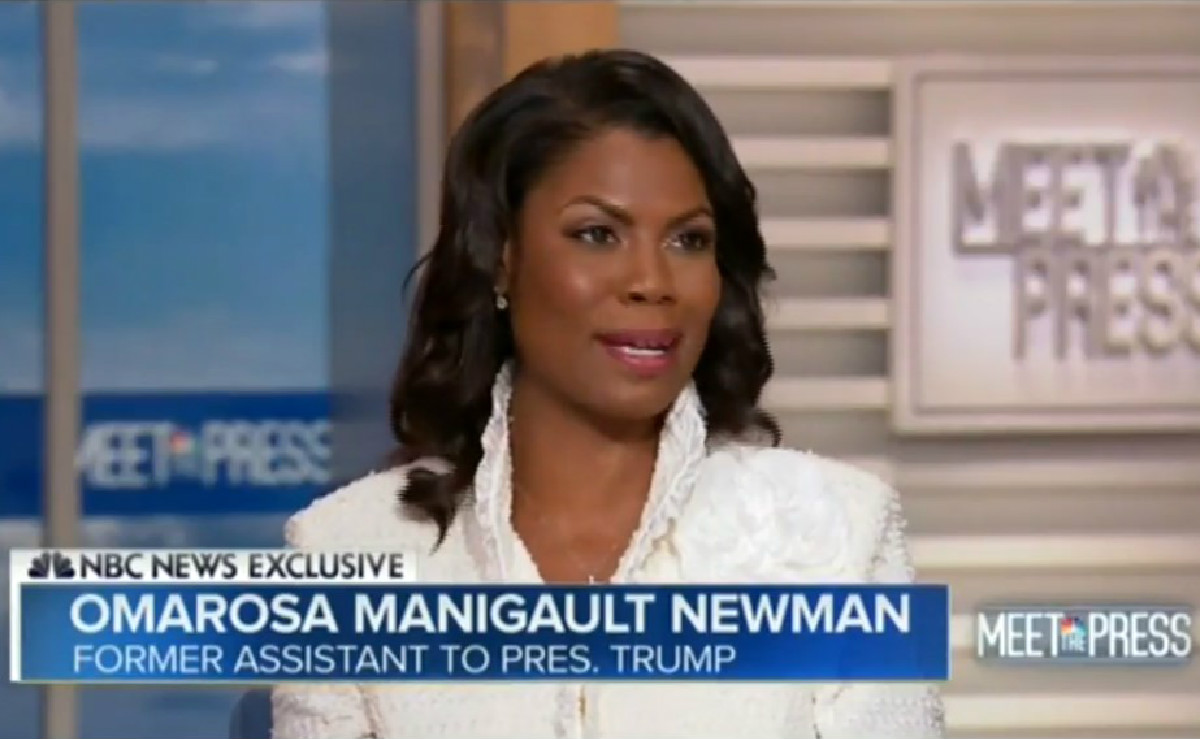 Former White House aide and Apprentice contestant Omarosa Manigault Newman has been driving the news cycle the past few days as she promotes Unhinged, her upcoming tell-all about her time in the Trump administration. It looks like we'll have more Omarosa-driven stories for a bit as during an appearance on Meet the Press Sunday morning, she brought with her a tape of White House Chief of Staff John Kelly firing her in the Situation Room.
Let me repeat that. A former and current reality TV star was able to make a tape of a retired general while they sat in what is supposed to be an ultra-secure location.
Explaining her reasoning for taping Kelly that day, Omarosa told host Chuck Todd that Kelly had refused to meet with her the entire time he was there so she knew the Situation Room meeting wasn't going to be about "parking or scheduling issues." Before they played the tape, she also noted that it is obvious on the recording that she was locked in the room and couldn't leave or consult with anyone else.
Meanwhile, Todd wanted to know how often she taped others in the White House, causing Manigault Newman to retort "this is a White House where everybody lies."
She added, "The president lies to the American people. Sarah Huckabee Sanders lies every single day. You have to have your own back because otherwise you'll look back and see 17 knives in your back."
Finally, after Omarosa called her conversation with Kelly a "threat" while hitting back at reports that she tried to charge into the residence at the White House after her termination, they played the recording.
"I think it's important to understand that if we make this a friendly departure, we can all be –– you know, you can look at your time here in the White House as a year of service to the nation," Kelly can be heard telling Omarosa. "And then you can go on without any type of difficulty in the future relative to your reputation."
"It's very obvious a threat," she told Todd after that clip. "He goes on to say that things can get ugly for you. the chief of staff of the United States under the direction of the President of the United States threatening me on damage to my reputation and things getting ugly for me. that's downright criminal."
Later on, another portion was played in which Kelly informed Maniagualt Newman that this was a "non-negotiable discussion" and that she was being fired due to "serious integrity violations." He added that all the White House staffers worked for him and not the president.
"He just said the staff and everybody works for him, not the president — you don't have a problem with that, Chuck?" Omarosa asked the Meet the Press host following that clip being aired. Todd pointed out that many White Houses have worked this way.
Prior to Omarosa booking her media appearances around her book — which has seen slow pre-sales so far — it was reported that she had numerous recordings of Trump and others in the White House.
Watch the clip above, via NBC News.