MSNBC's Steph Ruhle On Ingraham: 'At Worst, These Are The Words Of A White Supremacist'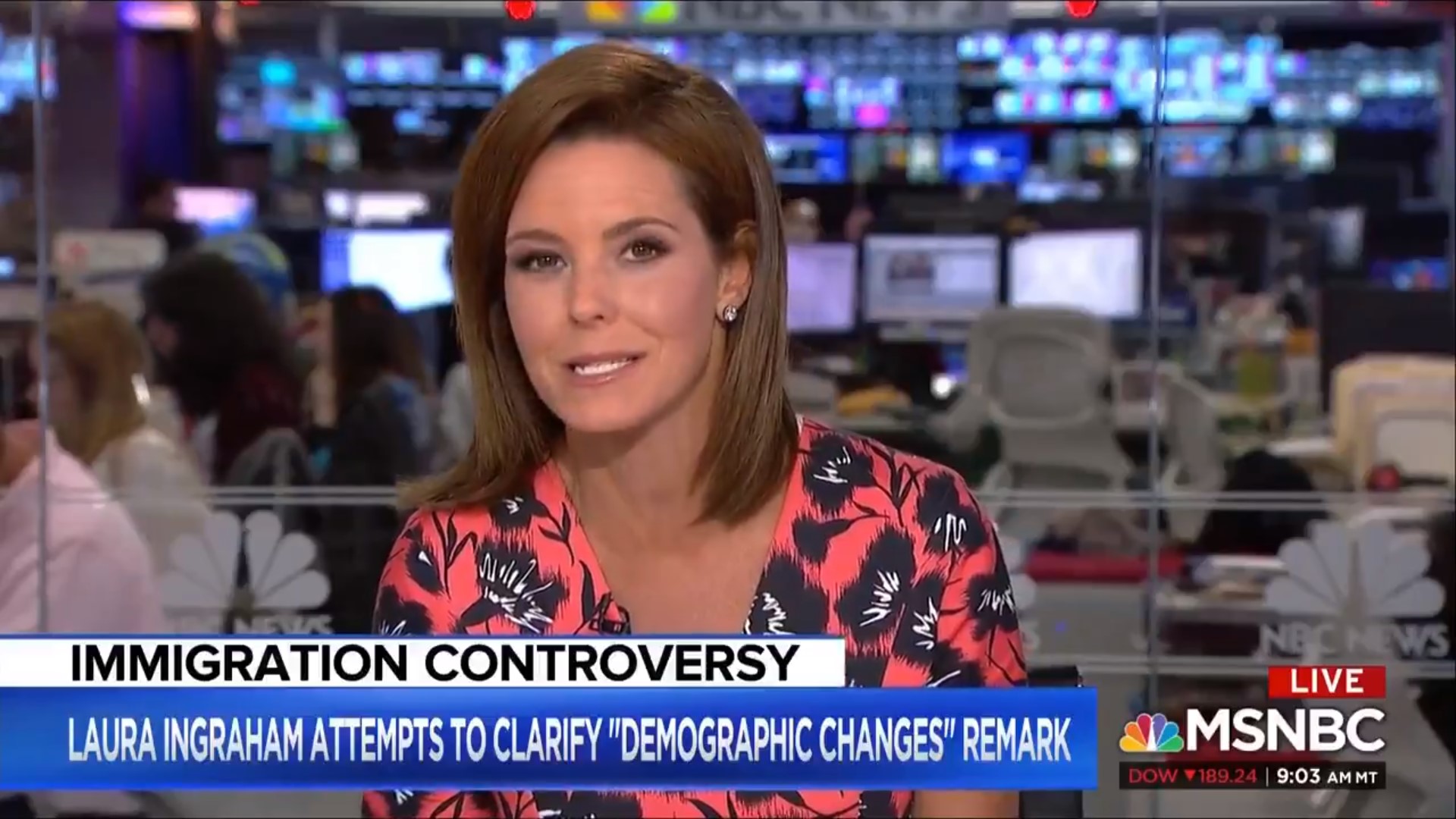 Reacting to the firestorm of controversy caused by her Wednesday night commentary about "massive demographic changes" causing the "America we know and love" to no longer exist, Fox News host Laura Ingraham tried to walk back those remarks Thursday evening and said her remarks had nothing to do with race and ethnicity.
With other cable news commentators immediately panning Ingraham's clean-up attempt, MSNBC's Stephanie Ruhle added her voice to the mix Friday morning. And she did not hold back.
"Did you hear what she say there? Illegal and legal immigration," Ruhle noted after playing a clip of Ingraham's Wednesday monologue. "So when she tries to clean this up and say this is is it all about law and order, how could it possibly be about that if you're going after legal immigration?"
She continued, "At worst, these are the words of a white supremacist. At best, it's playing on an anxiety of a part of our culture."
Ruhle pointed out that in a since-deleted tweet, former KKK leader David Duke applauded Ingraham's remarks. She also added that while the Fox star had plenty of opportunities to explain herself, she waited 24 hours to address it on her show and her clarification was severely lacking.
"Ma'am, you made explicitly clear when you said illegal and legal," the MSNBC host exclaimed after playing Ingraham's walk-back. "All an innocent misunderstanding? Is that what we're supposed to take this as?"
She added, "Just in case, I invite you to take a very good look at the words used. Massive demographic changes foisted on the American people. And changes none of us ever voted for and most of us don't like. We know exactly what demographics refer to because the Census Bureau spells it out. Age, sex and racial composition of a population."
Ruhle ended her segment by playing a montage of other racially insensitive comments Ingraham has made in the past, including the conservative commentator's infamous "shut up and dribble" remark about LeBron James.
"I believe it was you — you, Laura Ingraham — who said shut up and dribble," Ruhle concluded. "And I can only speak for myself but I it wouldn't thank LeBron James for the school he opened and you will the kids he's putting into his new school and many who he has already granted scholarships to in his hometown of Akron, Ohio. Thank you."
Watch the clip above, via MSNBC.