Fox News Segment Abruptly Ends After Guest Says Something's Wrong With 'Fortune Cookies Ling Ling Is Eating'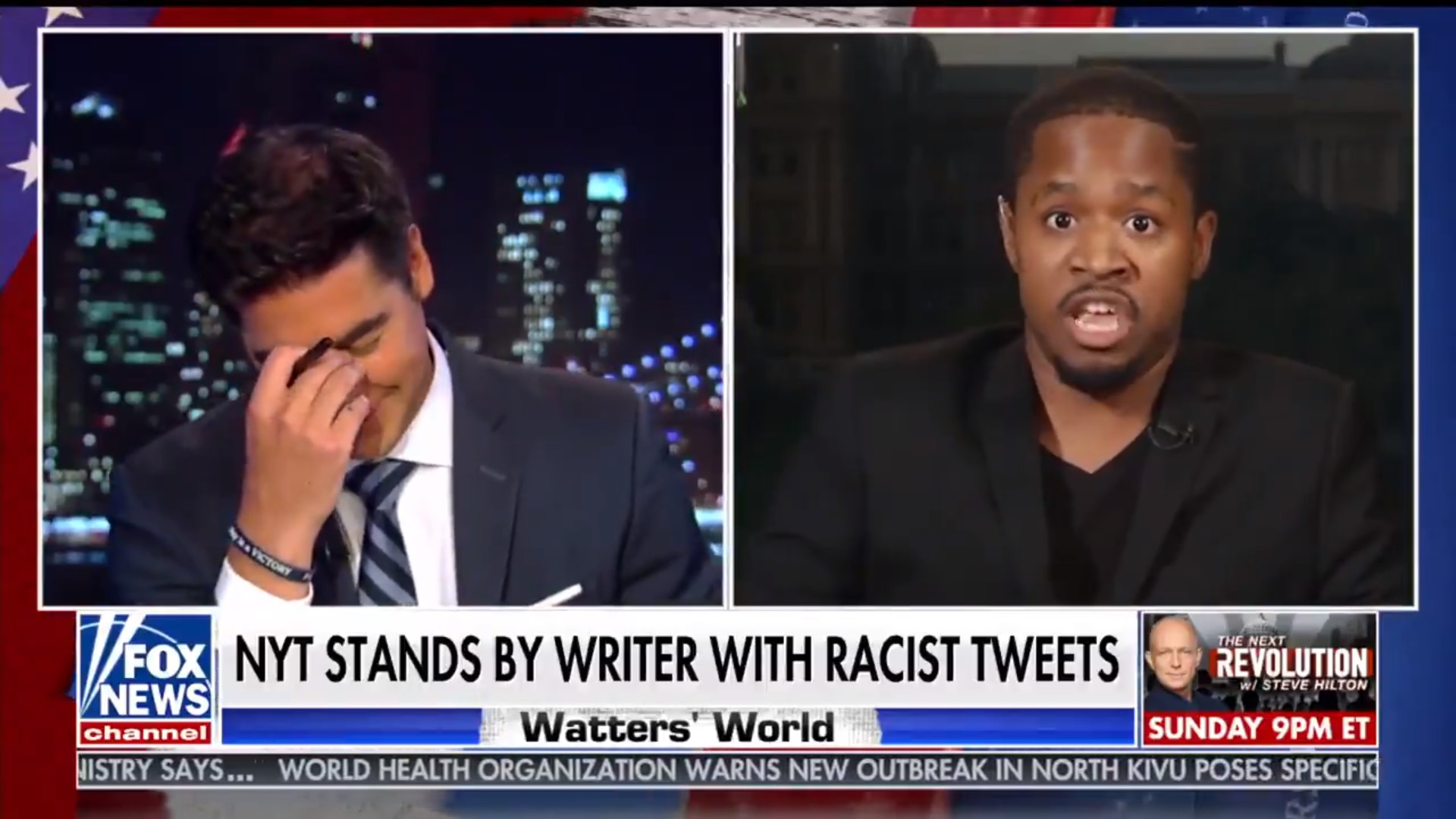 Fox News' Jesse Watters brought on comedian Terrence K. Williams Saturday night to discuss the controversy over resurfaced tweets by recently hired New York Times editorial writer Sarah Jeong but found himself quickly pulling the plug after Williams tossed out a number of stereotypical 'jokes' taking aim at Jeong's Korean heritage.
Williams, a black conservative comic who became something of a cause celebre after he was suspended by Facebook earlier this year, reacted to some of Jeong's tweets taking aim at white people and Donald Trump by saying it made sense the "nasty New York Times" hired her because she was a "nasty woman."
After tossing out a non sequitur about Roseanne Barr, Williams then began with the blatantly bigoted observations about Jeong.
"I don't know if this lady is Chinese, Japanese or crazy-nese," he uttered as Watters dropped his head. "Something's wrong with this woman! I can't believe they would hire her! They are a bunch of hypocrites."
Watters interjected and noted that the Times had issued an explanation that Jeong was firing back at harassers by embracing their own rhetoric, leading to this eyebrow-raising remark by Williams: "There's something wrong with them fortune cookies Ling Ling is eating!"
This was too much for even Watters, who once had to apologize for on extremely racist segment he did in Chinatown mocking Asian-Americans.
"Terrence, I think you now got yourself in trouble," he told Williams while the comedian yelled "No! No! No!" as he likely realized he had gone too far.
"I gotta run. We'll be right back. I gotta go to break," the Fox News host said as the segment abruptly came to an end after only two minutes.
Williams later took to Twitter defend his comments and lash out at Mediaite writer Tamar Auber for her write-up of his disastrous Fox News hit, calling her the "real racist."
I called a racist Asian "Ling Ling" but I wasn't being racist and hateful like her. She wished death on white people -that's racist & told black people to shoot cops so they can get get killed-that's racist. I'm a comedian, I love Asians and as I think about It dated a few.

— Terrence K. Williams (@w_terrence) August 5, 2018
I'm a comedian I was not being racist so shut up. I love the Asian community! https://t.co/H8nkvPBJu0

— Terrence K. Williams (@w_terrence) August 5, 2018
I'm done explaining myself ! I will not let these racist white liberals ruin my day from over a Joke.I was in the children shelter with Asians, Hispanics, Whites & blacks. I grew up loving everybody. I'm a comedian & i made a joke. The end!
RETWEET if you stand by me! pic.twitter.com/ONAoArROe2

— Terrence K. Williams (@w_terrence) August 5, 2018
@tamarauber this piece you wrote was trash! You calling me racist ? Lol you are the racist. What kind of racist Black man would date an Asian and Hang with them. You sound stupid and take care of yourself and stop trying to bring me down because I'm not a black liberal pic.twitter.com/cclMHTSBfr

— Terrence K. Williams (@w_terrence) August 5, 2018
This White Liberal Lady is trying to bring me down because I'm not a Black Liberal Comedian. She is calling me racist a for my Asian Joke and God knows Im friends with them and dated a few! @tamarauber leave me alone you are the real racist! pic.twitter.com/FKUgJArUXC

— Terrence K. Williams (@w_terrence) August 5, 2018
He also retweeted alt-lite provocateur Mike Cernovich, who came to Williams' defense and invoked James Gunn. (Cernovich's amplification of old tweets by the Guardians of the Galaxy director led to Disney firing Gunn from the upcoming GotG film.)
White "journalists" attack @w_terrence for making some jokes. These same people defended James Gunn. https://t.co/uZMabNW2nE

— Mike Cernovich 🇺🇸 (@Cernovich) August 5, 2018
Anyway, check out the clip above, via Fox News.