Pimp Buddy Tucker Carlson Blasts Liberals As Indecent For Defending Stormy Daniels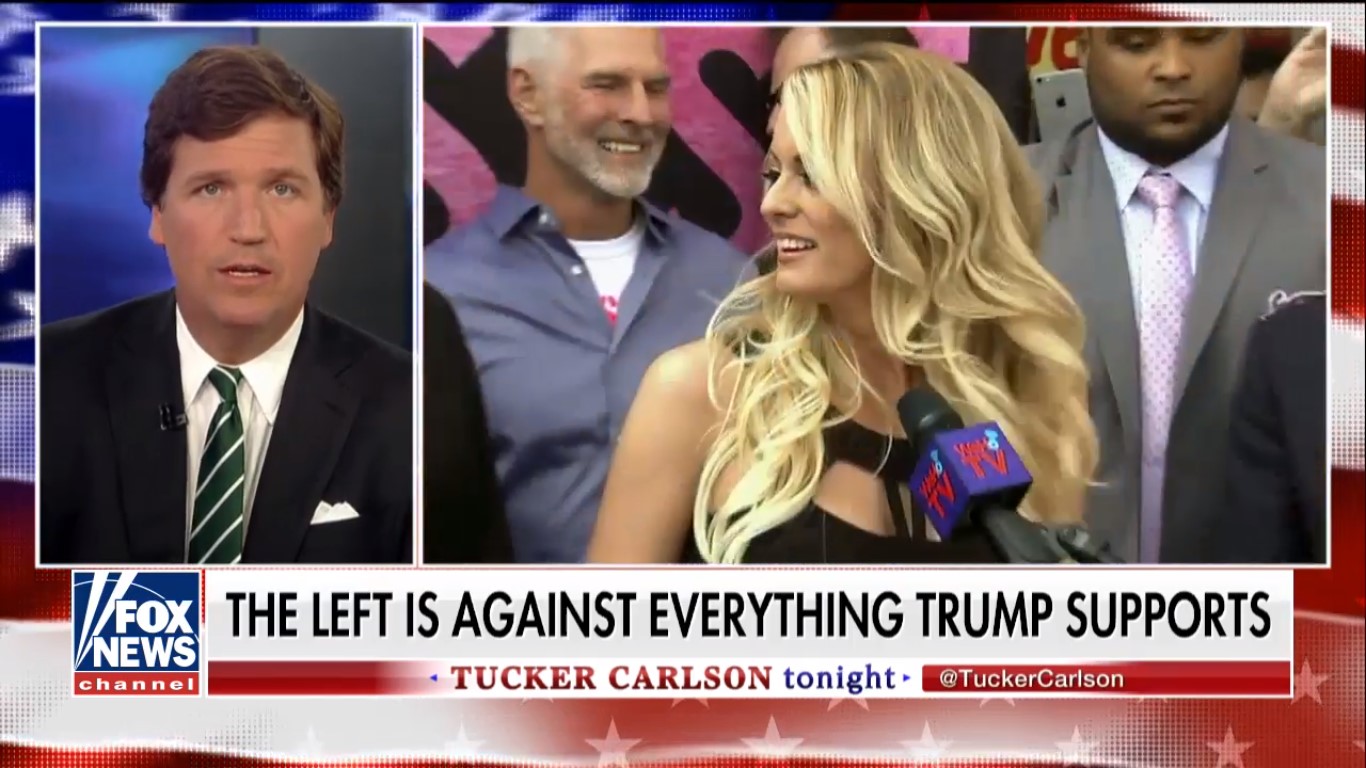 At the top of his program Monday night, Fox News host Tucker Carlson took aim at liberals and Democrats for engaging in "Trump Derangement Syndrome" and pointed to the left's support of adult film star and alleged one-time Donald Trump mistress Stormy Daniels as proof.
After claiming that the left has decided that everything that Trump supports is evil and wrong and thus anything opposing Trump must be good, Carlson brought up Daniels to make his case by insisting liberals had previously been opposed to hardcore pornography. However, in Tucker's opinion, because Daniels and her attorney Michael Avenatti have proven to be a thorn in Trump's side, liberals are now coming to her defense.
"Even on the far-left, hardcore pornography was not considered an ideal career for your daughter," the conservative commentator said. "Then Daniels and her creepy cable-friendly lawyer emerged, and now Daniels is touted by the left as some sort of civil rights hero."
Carlson then brought up Trump lawyer Rudy Giuliani's remarks about Daniels in which he said "I don't respect a porn star the way I respect a career woman" while stating she lacked any credibility when it came to her allegations against Trump. (He also insisted she wasn't attractive enough for Trump to sleep with.)
"When Rudy Giuliani doubted her credibility," the Fox News host declared. "He was blasted for impugning the respectability of women who have sex with strangers on camera for pay."
Of course, painting liberals as hypocritical for not being all about family values now is a bit ironic considering the only reason Daniels is a household name is because Trump's former lawyer Michael Cohen paid her hush money to stay quiet about her affair with the married Trump, something Tucker didn't bother to hit on during his lecture on morality.
Tucker scolding liberals for supporting porn stars is really a bit much to take, however, when you consider the fact that Carlson is a longtime friend of actual pimp Dennis Hof, owner of several Nevada brothels. Carlson wrote a chapter in Hof's book, The Art of the Pimp, and Hof has claimed that the two men text each other every day. Hof, who is currently running for office in Nevada, has also said Carlson has acted as a political adviser to his campaign, something that Carlson had denied.
Watch the clip below.
And here's Tucker criticizing "The Left" bc they used to be for family values but now Stormy Daniels is around…..which is weird framing, considering the reason she's in the news is bc the Party Values president Tuckers defending slept with her while he was married pic.twitter.com/LHaTsn8nc3

— Andrew Lawrence (@ndrew_lawrence) July 31, 2018