Pimp Claims Tucker Carlson Is Advising His Political Campaign, Says They Text Every Day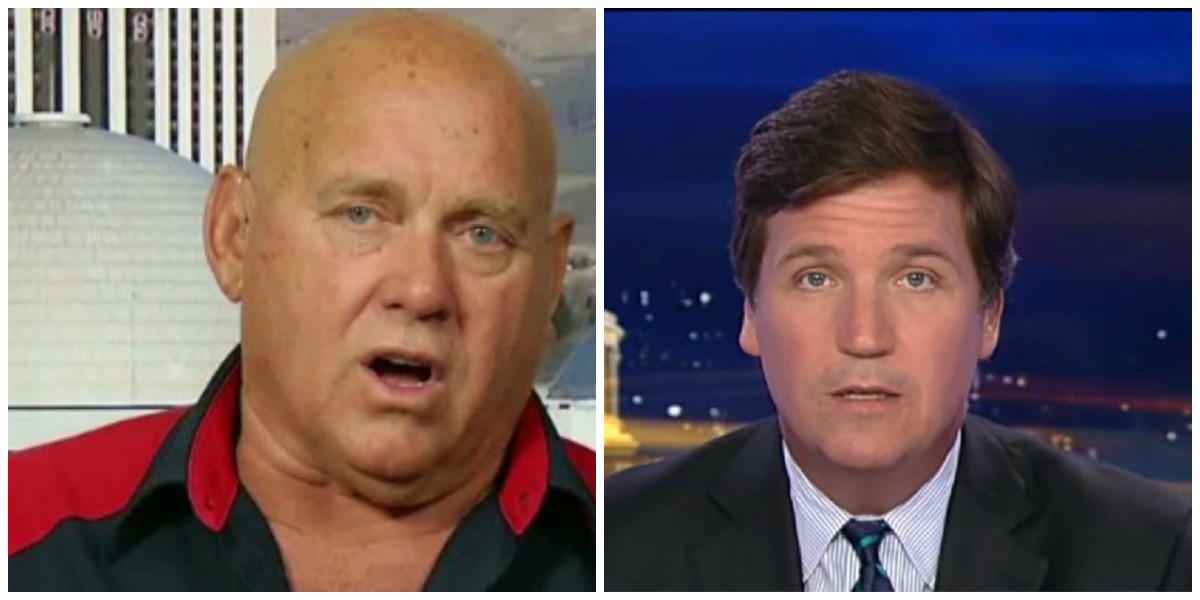 While Tucker Carlson feels a woman who works as a porn star is undeserving of any respect and should be roundly mocked and denigrated, apparently he feels a real-life pimp is someone who he should receive his political advice on a daily basis.
During an interview on Nevada Public Radio, brother kingpin and Republican Assemblyman nominee Dennis Hof spoke about his relationship with the Fox News star, explaining that not only are the two men close friends and Carlson wrote a chapter in his book, but Carlson is advising Hof on his political campaign.
"We text back and forth everyday," Hof claimed on KNPR, after saying Carlson told him to be part of the solution and run for office. "He just gives me advice."
Through an FNC spokesperson, Tucker Carlson denied this claim saying he is merely a friend.
When asked what kind of advice, the Cathouse star claimed that Carlson tells him to "stick to the point" and not fall for the "character assassinations." He added that he watched Tucker's show every night and sometimes gives the Fox News host pointers.
Hof also noted that one of the "nicest things" Carlson ever did was introduce him to notorious political trickster and longtime Trump advisor Roger Stone, who he considers a "good friend." The brothel owner further acknowledged that he is patterning his campaign on Donald Trump's 2016 run. Hof has previously said Stone has helped him in his campaign.
One would think that Carlson's recent slut-shaming of adult film star Stormy Daniels would seem to run counter to being a close friend and political adviser to a literal pimp. Then again, the two men seem to view Daniels in the same light. In a recent Rolling Stone interview, in which Hof also said he speaks to Carlson on a regular basis, the Art of the Pimp author said the following about Daniels:
You run all of these brothels. Trump has been connected to this porn star and that porn star. How do you respond to people who feel that politicians should uphold a certain moral standard and that neither of you are within that?
First of all, all the news agencies have been showing a zillion times a clip of me and Stormy Daniels. I'm so disappointed in this worn out porn ho, that she did this. Why did she have to sleep with him to start with? Because he's famous? Or because he gave her money? She says he didn't give her money. I doubt that. I know all these porn girls, that's what they do. Her career is done. She's an old porn girl. This is Donald Trump. She's used him to revitalize her career so she can spend the rest of her life in scuzzy champagne rooms fooling around with guys for money.
So you believe Trump did have a relationship with her?
No, I don't think it was a relationship at all. It was just sex. I can't imagine having a relationship with her. He's got much better taste. When you pay a girl for sex, you're paying her not to talk. That's why people come to my places. We're not going to out anyone. She got her $130,000 and that wasn't enough. You know the special interest groups and the Dems are pushing this whole issue, although they won't admit it. It's disgusting. I'm sorry I was ever on a red carpet with her.
Classy. So very classy.
Meanwhile, Carlson has recently railed against liberals and Democrats when it comes to family values, claiming they don't care about the collapse of the American family because "strong families are an impediment to their political power."