Hannity Presents Ocasio-Cortez's Platform Of 'Solidarity With Puerto Rico' In Negative Light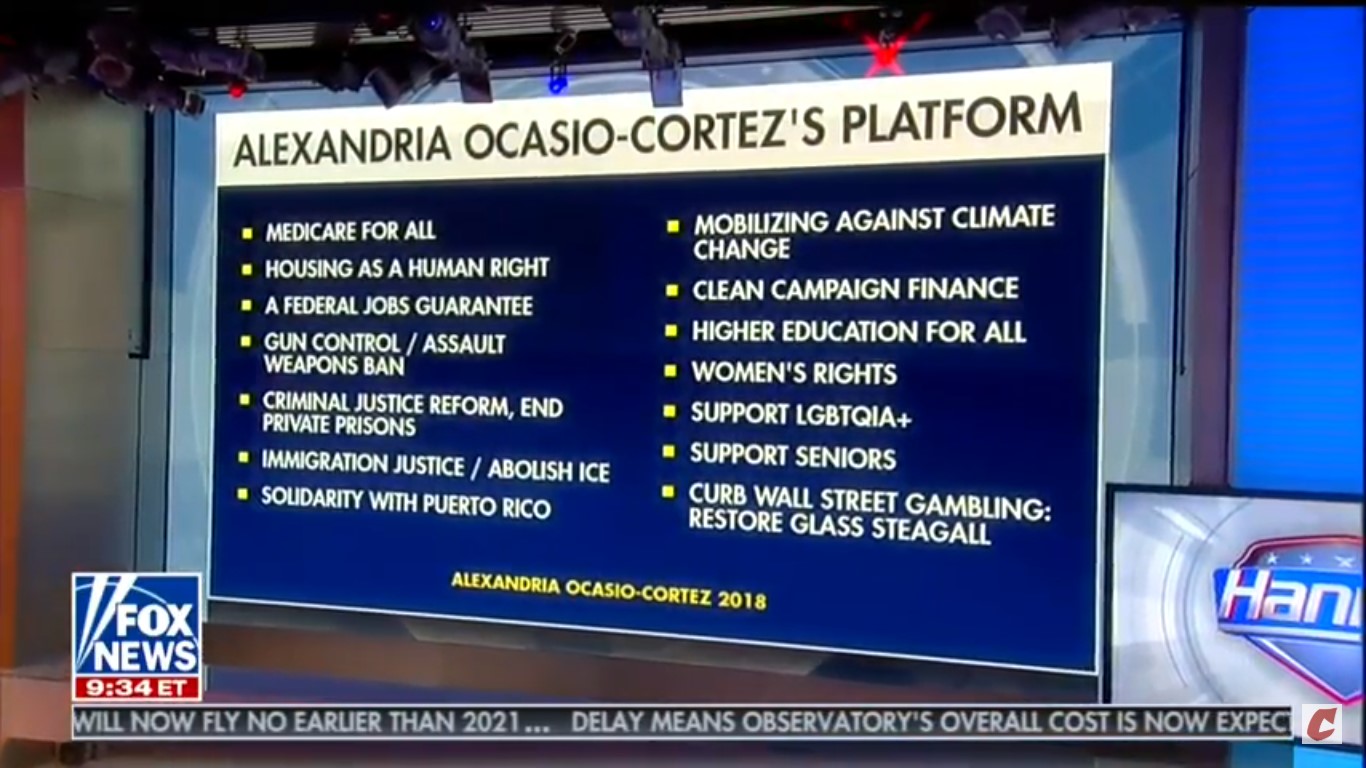 Following Alexandria Ocasio-Cortez's shocking Democratic primary win over longtime incumbent Rep. Joe Crowley (D-NY), a member of Democratic House leadership, Republicans and conservatives quickly pushed out a narrative that the young Democratic Socialist's victory was proof that the Democrats are "in turmoil" and instead of a blue wave, we're really looking at a "red tsunami."
Wow! Big Trump Hater Congressman Joe Crowley, who many expected was going to take Nancy Pelosi's place, just LOST his primary election. In other words, he's out! That is a big one that nobody saw happening. Perhaps he should have been nicer, and more respectful, to his President!

— Donald J. Trump (@realDonaldTrump) June 27, 2018
The Democrats are in Turmoil! Open Borders and unchecked Crime a certain way to lose elections. Republicans are for Strong Borders, NO Crime! A BIG NIGHT!

— Donald J. Trump (@realDonaldTrump) June 27, 2018
During Wednesday night's Hannity, Fox News star and White House shadow chief of staff Sean Hannity took aim at Ocasio-Cortez and attempted to present her as the "face of the Democratic Party" while warning his viewers that her ideas were "downright scary."
And how did he do that? By showing her platform that included items like solidarity with Puerto Rico, Medicare for all, support of seniors and the LGBTQ community, clean campaign finance, a jobs guarantee and housing as human rights.
Sean Hannity just presented this agenda as a negative pic.twitter.com/mYoByIRyr5

— Andrew Lawrence (@ndrew_lawrence) June 28, 2018
"Look very carefully," Hannity said as a graphic showed the 28-year-old's agenda. "This is your modern Democratic Party."
He went on to show a clip of Ocasio-Cortez expressing support for the impeachment of President Trump, adding that the "only difference between the self-proclaimed socialist that you just saw and the rest of the Democratic party is — she's actually more honest."
"As we have shown you many times, we will show you all through this election season, I will give you the agenda the Democratic Party," Hannity informed his audience.
After showing Ocasio-Cortez's platform, folks on Twitter shook their heads at the idea that the conservative commentator somehow thought that those ideas were extreme, dangerous and unpopular.
Honestly, find me one thing on that list that isn't a winning issue

— Andrew Lawrence (@ndrew_lawrence) June 28, 2018
"Solidarity with Puerto Rico", "support seniors"

— Seth Mandel (@SethAMandel) June 28, 2018
If you want a summary of my policy endorsements, here it is https://t.co/ZjXlNF93AY

— Steve Gaynor (@fullbright) June 28, 2018
it honestly kind of looks like maybe sean hannity's graphics team just hates him? https://t.co/9uiAkMqz8q

— Ashley Feinberg (@ashleyfeinberg) June 28, 2018
Watch the clip above, via Fox News.