Rep. Mo Brooks Has Trump's Back, Tells CNN He Considers Them A 'Political Foe'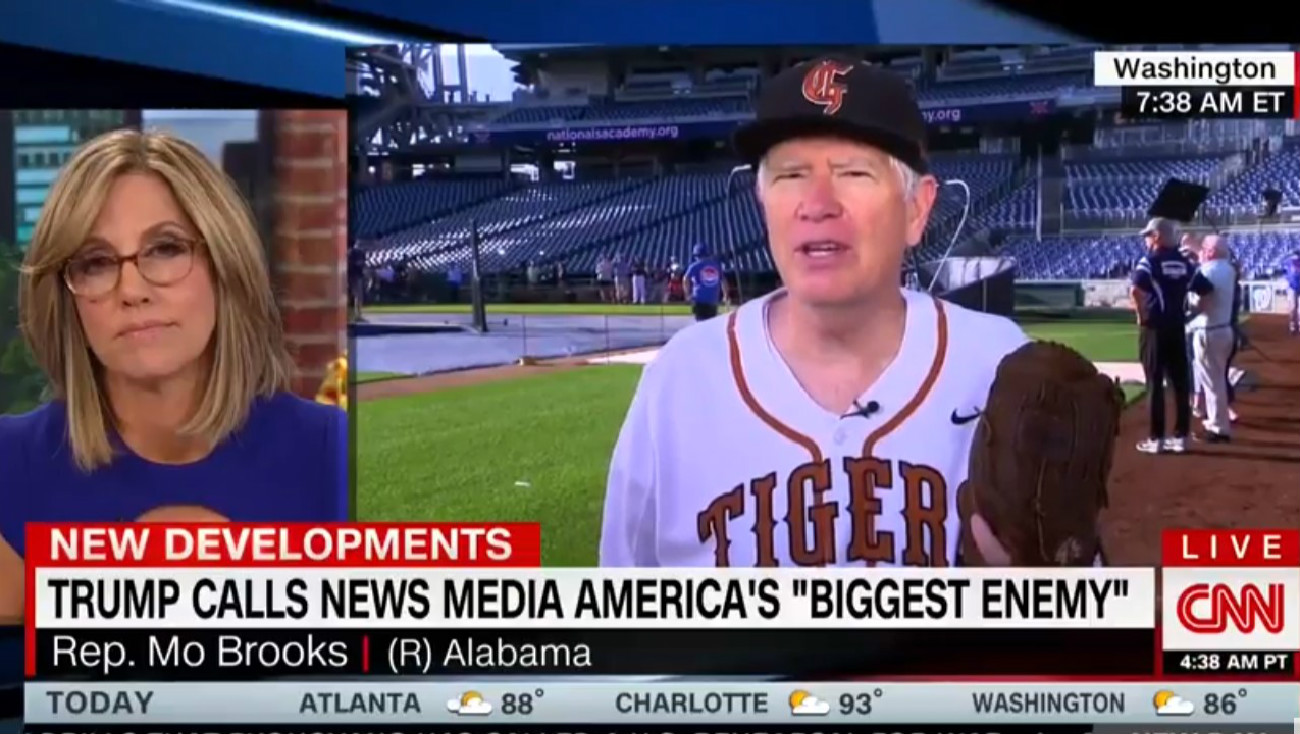 While appearing on CNN this morning, Rep. Mo Brooks (R-AL) was pressed to react to President Donald Trump's recent tweet calling CNN and NBC "Our Country's biggest enemy." And, surprise surprise, Brooks defended the president while simultaneously doubling down on Trump's media attacks.
"Do you think that the press is the greatest enemy of the US?" New Day host Alisyn Camerota asked Brooks, who was in broadcasting from the Congressional Baseball Game.
"Well, I'm a conservative and I'm a Republican," Brooks responded. "Certainly the news media, particularly at the national level, is a challenge for us who hold conservative beliefs."
After Camerota pressed him on whether he'd call CNN an enemy, Brooks merely said those wouldn't be the words he'd use.
"I would call CNN, and most people in the media who have left leading bents, a geo — a political foe," the Alabama lawmaker stated. "They tend to be aligned with the Democrats versus the Republicans. So they're a political foe. Would I call them an enemy of our country? That's not the verbiage I would use."
Camerota reiterated what the president tweeted out about the media and explained that the reason she was bringing this up was after last year's Congressional Baseball shooting there was supposed to be a concerted effort to "come together and show more unity."
"I'm just wondering if that kind of language accomplishes that," she added.
Brooks said that while he considers Camerota a friend, he assumes she votes differently than he does, causing the CNN anchor to ask how he knows her voting preferences and why that even matters. The Republican went back to saying that he'd prefer to use the words "political foe" to describe the press, stating "enemy" is not the language he'd use.
He'd go on from there to insist that the president was just using hyperbole to make a point and that it's all cool because he's been "fairly successful" at it.
Watch the clip above, via CNN.