#WeGotJoy: Black Women Take To Twitter To Defend Embattled MSNBC Host Joy Reid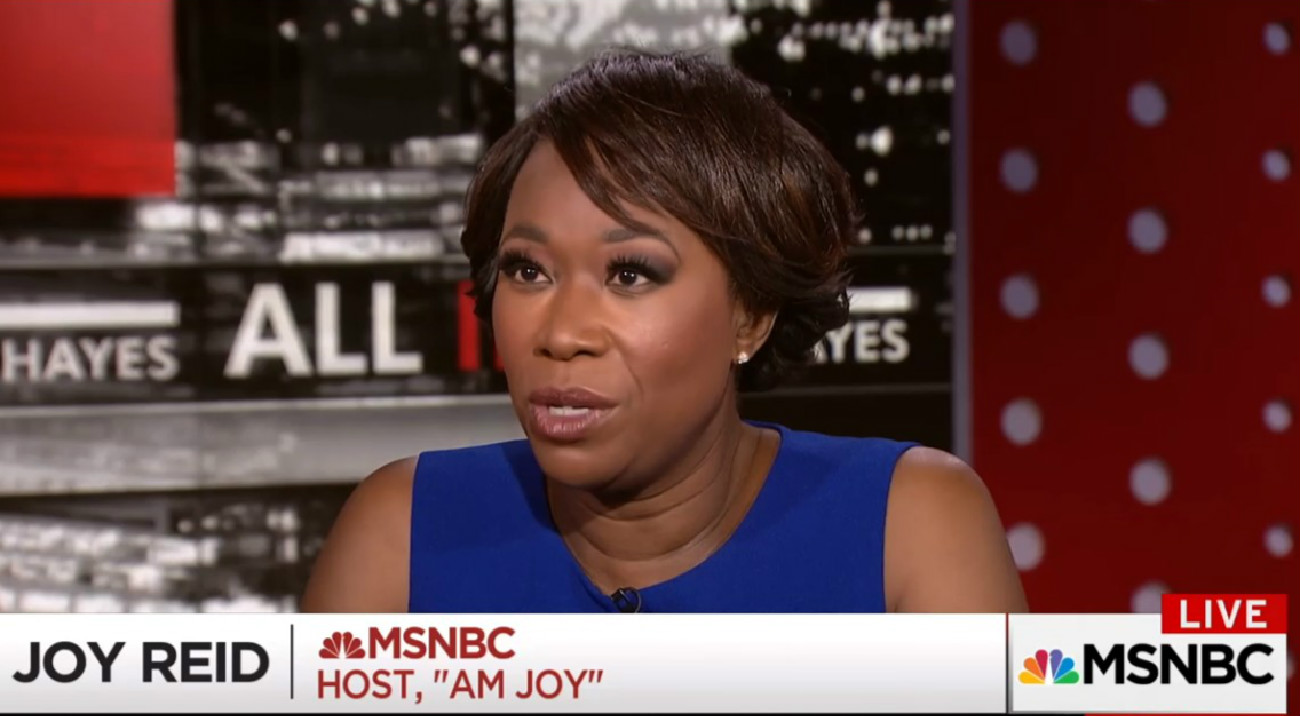 One embattled cable news personality is witnessing a mobilized online effort to defend her against calls that she resign or be fired.
Following the kerfuffle over comedian Roseanne Barr's racist tweets, MSNBC host Joy Reid once again found herself under fire for bigoted and inflammatory posts that appeared on her now-defunct blog The Reid Report. With Reid tapped to host the MSNBC special Everyday Racism in America, Reid's blog found itself under renewed scrutiny as detractors and reporters began pressuring MSNBC and Reid for answers.
On Friday, both Reid and MSNBC released statements addressing the latest round of resurfaced blog posts. The AM Joy host "sincerely" apologized while explaining that her views have evolved over the years. Meanwhile, the network made it known that they stood by the rising star and #Resistance hero. Observers and critics, however, noted that her statement did not address her previous claim that unearthed blog posts were the results of hacking and fabrication.
In the wake of this controversy flaring up again, black women took to Twitter to defend Reid, noting that she's the only black woman with a program on MSNBC and an important voice for people of color.
Amplified by influential social activist April Reign, the hashtag #WeGotJoy began trending on Monday. Below is a sampling of some of the tweets using the hashtag.
~@JoyAnnReid is the ONLY Black woman with a news show on @MSNBC. I am defending her voice because it represents mine. #WeGotJoy #TrustBlackWomen pic.twitter.com/lgTFCenMHx

— April is in Maui (@ReignOfApril) June 4, 2018
@JoyAnnReid is a powerful voice and critical perspective, especially for black women. We know who she is and support her tireless work in favor of progressive causes, even in the face of opposition. #WeGotJoy #TrustBlackWomen pic.twitter.com/hRt8HaRBpT

— Melanie Campbell (@coalitionbuildr) June 4, 2018
Thank you .@MSNBC For protecting and perserving the voices of Black Women… @JoyAnnReid continues to be a trusted voice for all of us! #WeGotJoy #StandWithBlackWomen #TrustBlackWomen https://t.co/oj4Bo6dBNg

— Waikinya Clanton (@WJSClanton) June 4, 2018
Beyond pissed. It's never enough. I watch ALL👏🏾DAMN👏🏾WEEK👏🏾 on ANY cable network and political coverage is DOMINATED by white voices. ALL👏🏾WEEK👏🏾. Silence speaks volumes. Put your slimy energy that shall be reaped into your mediocre leader. #WithJoy💯#WeGotJoy pic.twitter.com/GCT3t3EPJW

— Erica Savage Wilson (@1ericasavage) June 4, 2018
Hat tip to @MSNBC for its unwavering support of @JoyAnnReid, even amidst this coordinated attack against her. They know her worth and so do we. #WeGotJoy #TrustBlackWomen pic.twitter.com/Rnlzpc3xgM

— April is in Maui (@ReignOfApril) June 4, 2018
Thank you @MSNBC. Black Women support you, supporting @JoyAnnReid #WeGotJoy #TrustBlackWomen #BlackWomenUniyed pic.twitter.com/ScCi1SGcln

— Holli Holliday (@hollileshae) June 4, 2018
.@JoyAnnReid is one of the few African American women in cable news. I am defending her voice because it represents mine. #WeGotJoy #TrustBlackWomen pic.twitter.com/YAwLSVZ4EV

— Kristal High Taylor (@KristalHigh) June 4, 2018
Digging in the #WayBackMachine to unearth blog posts more than a decade old? @joyannreid must be a threat to those who don't like to see Black women succeed. #WeGotJoy #TrustBlackWomen pic.twitter.com/dPEQNRP34M

— Simone (@Vrtlnsanity) June 4, 2018
We all grow over time and @JoyAnnReid is an example of someone who has learned more and evolved over time. I support Joy. #WeGotJoy #TrustBlackWomen #blackwomenforpositivechange pic.twitter.com/sdhJYiOBqv

— Charlene Butts Ligon (@CharleneLigon) June 4, 2018
@JoyAnnReid is the ONLY African American woman with a news shows on MSNBC and I am defending her voice because it represents mine. #WeGotJoy #TrustBlackWomen

— BWR (@ncbcp_bwr) June 4, 2018
To growth.
To inclusion.
To excellence.
To compassion.

The capacity to reflect, to learn, to change, to become and to DO better is uniquely human, and one we should all strive for. Not chastise. Thanks @MSNBC for recognizing that in @JoyAnnReid!#WeGotJoy pic.twitter.com/VjUEa3U4vW

— 🇺🇸🇭🇹 Only4RM 🇭🇹🇺🇸 (@Only4RM) June 4, 2018
She is one of the very best in the business and I stand with @JoyAnnReid #WeGotJoy pic.twitter.com/mcDPhczOjn

— Lynn (@lynnv378) June 4, 2018