CNN's Brian Stelter: Are Journalists Doing Enough To Call Out Trump's Lying?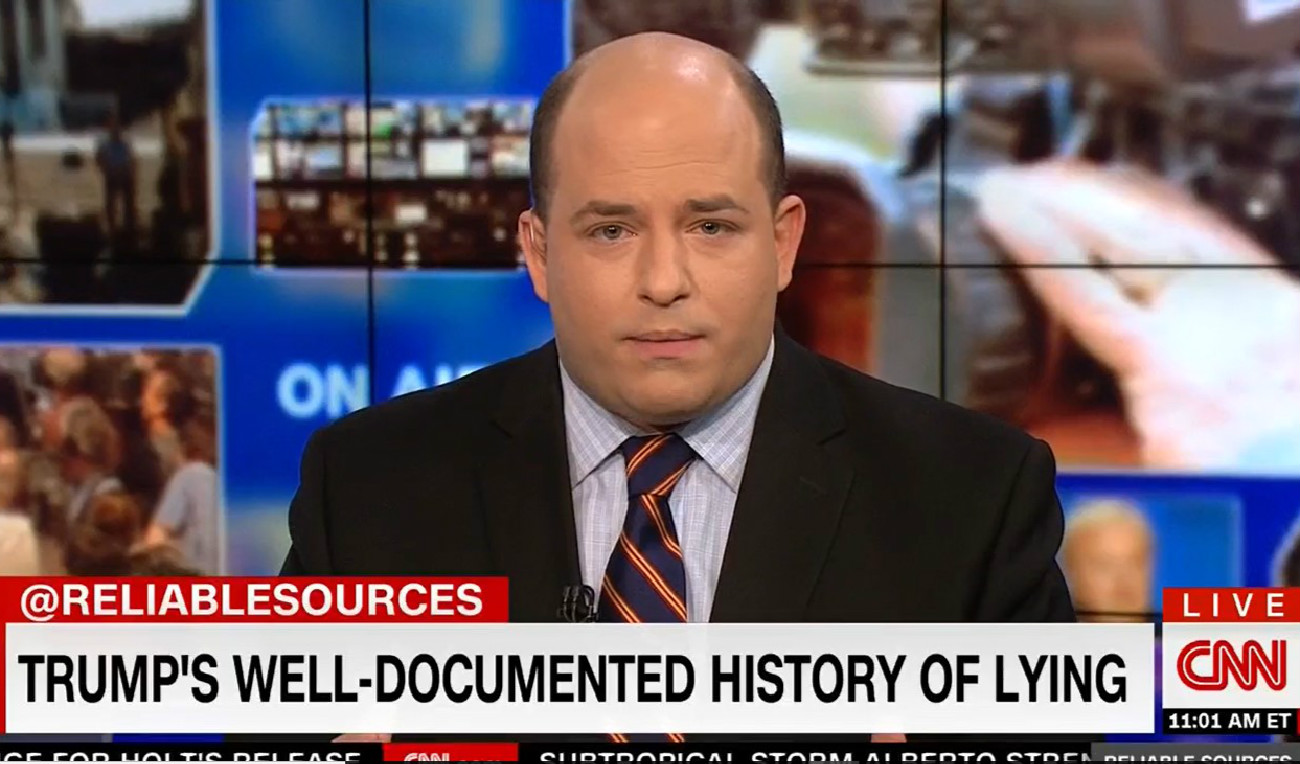 On Saturday, President Donald Trump unleashed a daylong tweetstorm that covered a wide range of topics, such as the continued push of his Spygate conspiracy. Besides muddying the waters when it comes to the Mueller investigation, Trump sent out two tweets that were "pants-on-fire" false. Those tweets resulted in an online debate over whether reporters should explicitly call them "lies" or stick with the term "falsehoods."
Put pressure on the Democrats to end the horrible law that separates children from there parents once they cross the Border into the U.S. Catch and Release, Lottery and Chain must also go with it and we MUST continue building the WALL! DEMOCRATS ARE PROTECTING MS-13 THUGS.

— Donald J. Trump (@realDonaldTrump) May 26, 2018
The Failing @nytimes quotes "a senior White House official," who doesn't exist, as saying "even if the meeting were reinstated, holding it on June 12 would be impossible, given the lack of time and the amount of planning needed." WRONG AGAIN! Use real people, not phony sources.

— Donald J. Trump (@realDonaldTrump) May 26, 2018
At the top of Sunday's Reliable Sources, CNN senior media correspondent Brian Stelter addressed this issue of when the press should call out the president for lying. Noting that journalists are constantly getting hammered by the president's supporters for being too tough on Trump, Stelter pointed out that the president's critics feel the media is "too easy on him."
"When he lies, why don't you say he lies?" Stelter declared, presenting the critics' position.
The CNN host went on to state that President Trump is the leader of this country, but also "a liar," explaining that lying was a "big part of his business strategy."
"Now, as commander in chief, he misleads the public constantly," Stelter said. "Now I understand why many of you want news outlets to use the l-word — lie — more often. You want us to affirm what we all see — that Trump has a truth problem."
After suggesting that perhaps one solution would be for journalists and hosts not to "read his tweets aloud" because you can't believe anything he says, Stelter attempted to add some "nuance" into the conversation.
"He lies, but not everything he says is a lie," the media reporter noted before showing some examples of Trump possibly exaggerating or saying something unintentionally false. He also brought up how Trump was able to get his debunked Spygate claim to dominate the news for days. (And it still is, frankly.)
"Are journalists doing enough to shut down these distortions? Are we doing enough to call out the lying?" Stelter asked before turning to his panel of reporters to drill down into the topic.
Watch the clip above, via CNN.