Jake Tapper Fires Back At Kellyanne Conway: I Would Like Trump 'To Stop Lying, Quite Frankly'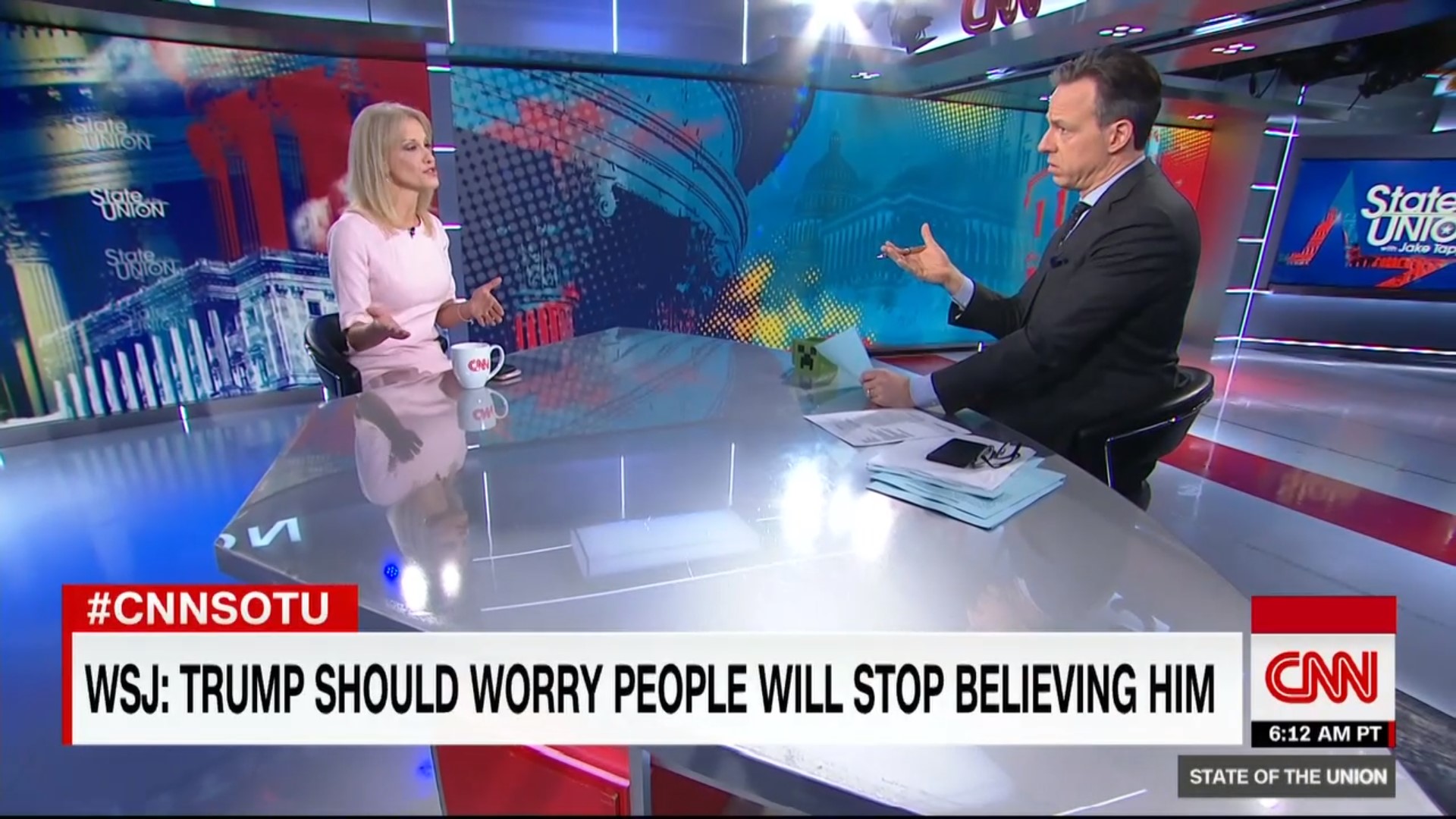 The moment it was announced White House counselor Kellyanne Conway was going to appear on CNN's State of the Union, you knew things would get testy because ALL of Conway's CNN hits turn out that way. Typically, we get Conway attempting to bulldoze the interviewer with a mixture of ridiculous pivots, mendacity and just plain ol' whining.
In this instance, Conway faced off with anchor Jake Tapper, and in the middle of their contentious conversation, Tapper confronted the senior White House aide on President Donald Trump's habit of lying. As Conway was on one of her standard spiels about how the American people just want Trump to be given the space to do his job, the SOTU host interjected.
"Does his job include lying to the American people?" Tapper asked. "Does he — do you think that his job includes lying to the American people? Because he continually does so. And he undermines his own administration when he does so."
Conway took issue with Tapper's observation and questions, telling him that he just wanted "that to go viral."
She added, "You want to say the word 'President Trump' and 'lie' in the same sentence."
"No, I want — I would like him to stop lying, quite frankly," Tapper fired back.
The two would continue to tangle for a bit over the president's lying, with Conway pivoting to Apple creating jobs while the CNN anchor pointed out that he knew Conway didn't want to talk about Trump's credibility. Conway insisted there was no credibility crisis at the White House before claiming this was just another way CNN was trying to damage the president.
Recently, the Washington Post reported that the president has made over 3,000 lies and false claims since taking office, and that the lies have increased in frequency in recent months. And in the past few days, Trump has shifted his story on the Stormy Daniels payment, leading White House Press Secretary Sarah Huckabee Sanders to struggle through a disastrous press briefing in which she told reporters she gives them "the very best information that we have at the time" when explaining the changing narrative.
Watch the clip below, via CNN.
CNN's Jake Tapper: "Do you think there's a credibility crisis in this White House?"

Kellyanne Conway: "No, I don't" #CNNSOTU https://t.co/PdLbtoeybT

— CNN (@CNN) May 6, 2018