Scientists Agree: President Trump Would Provoke Climate Change Disaster Worldwide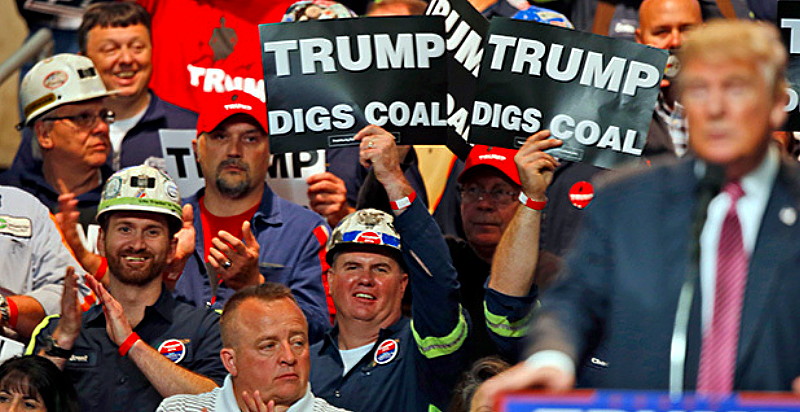 Donald Trump has called global warming "bullshit," a concept created, "by and for the Chinese," and referred to the Paris Climate Accord as, "One of the dumbest things I've ever heard in politics."
During his presidential campaign, Trump vowed to revive an outdated and dying industry by re-opening all the coal mines in the Appalachia region of W. Virginia; dismantle the Environmental Protection Agency, gut the Clean Air Act and overturn Obama's regulations on carbon-polluting power plants.
Those have been just a few of the threats to environmental safeguards by the bloviating GOP candidate, who thinks he is omnipotent enough to magically get every promise done that he conjures up to attract throngs of ignorant voters.
Of greatest global concern has been Trump's asinine threat to withdraw from the Paris climate agreement should he win the White House in November. Such ideology-driven intimidations designed to thrill his conservative, fossil-fuel loving base, have been floated by Trump for the past year.
In response, an open letter voicing concerns about Trump was recently signed by 375 members of the National Academy of Sciences, including Stephen Hawking and 30 Nobel Prize winners.  The US should lead the accord and Trump's threat to abandon it has many member nations fearful about the uncertainty his campaign has created.
"It is of great concern that the Republican nominee for president has advocated U.S. withdrawal from the Paris accord," the letter stated.  Members are worried over damage to international credibility at the very idea of a US withdrawal from the hard-won climate agreement.
"Climate change is a known fact, and today's letter speaks to the disastrous threat that those who deny science pose to our country and the world.  In signing the Paris climate agreement, more than 190 countries recognized the need to act, yet America now faces the possibility of electing a candidate who would tear up this accord and steer us straight into further climate disruption," said Melinda Pierce, Legislative Director for the Sierra Club.
The letter also took a broad swipe at all the US Congressional Republican science deniers, by saying their ongoing statements against the existence of man-made climate change, "are inconsistent with reality."
Meanwhile, President Obama, the polar opposite of Trump, gave his final address to the United Nations on Wednesday with strong support of the global alliance to fight climate change.  Also, the United Nations announced that 30 additional countries are set to join the accord.
Obama referenced accomplishments made during nearly eight years of his administration:
"Our assistance is helping people feed themselves, care for the sick, power communities across Africa, and promote models of development rather than dependence.  And we have made international institutions like the World Bank and the International Monetary Fund more representative, while establishing a framework to protect our planet from the ravages of climate change."
Democratic presidential nominee Hillary Clinton recognizes the urgent need to fight climate change and would continue working with world leaders to reduce greenhouse gases.
Here's the inescapable conclusion: Electing Trump president of a country that leads the world in everything from fighting climate change and poverty,  to combating terrorism and conflicts resulting in human misery—would not only be an American disaster, it would be a global catastrophe.
 Feature image courtesy of AP images.
***
***Author, Delilah Jean Williams, wrote the award winning, 5-Star rated, Scorched Earth, Alien Wonders published in 2015. If you've ever wondered what aliens
would find if they visited Earth a hundred years from now, you're going to love this book. But there's more to the earthly adventures of this group of space-traveling aliens than just seeing what a reckless human race did to their planet.  Just like people, these interstellar voyagers know a thing or two about love, laughter, betrayal and greed that can wreak destruction on a planetary scale. Can the aliens save what's left of the doomed world and guide humanity back to a healthy relationship with their planet? Or is it too late? The answer is inside the pages of Scorched Earth, Alien Wonders… Amazon.com.