Sheriff David Clarke Needs To Be Charged With Murder Over Inmate Dying Of Thirst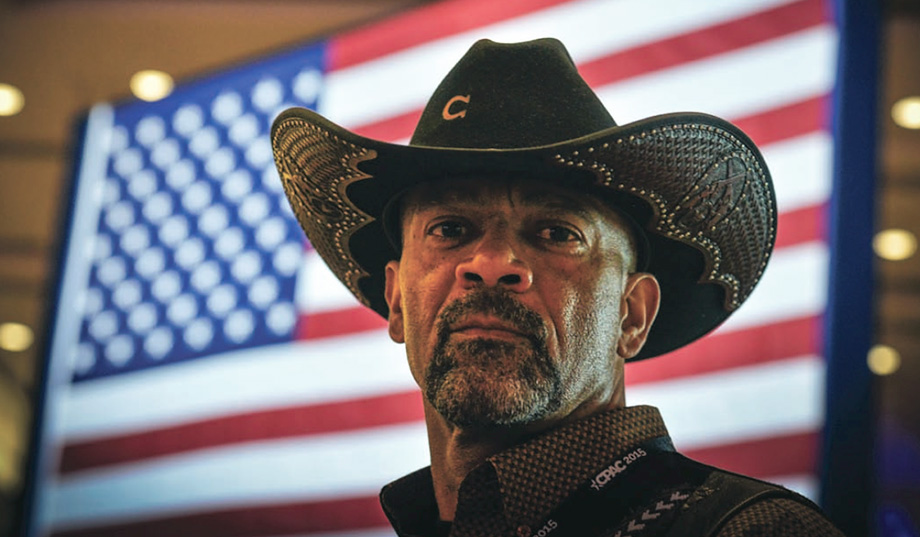 Last week, the Milwaukee County medical examiner's office ruled that the death of Terrill Thomas in April was due to homicide. Thomas died this spring while in custody of the Milwaukee County Jail following an arrest that likely was part of a mental breakdown. Investigators found that the water in his cell had been shut off for six days prior to his death, with the cell's faucet being a primary source of his drinking water.
Apparently, the corrections officers in the cell block cut off Thomas' water supply because he was flooding his cell and "acting erratically." The autopsy performed by the medical examiner found that Thomas, 38, suffered from bipolar disorder, which was also a significant condition leading to his death. Other inmates surrounding Thomas' cell at the time state that they warned officers that Thomas needed water. According to the Milwaukee Journal Sentinel, one inmate was especially concerned about Thomas' worsening condition.
One of the inmates, Marcus Berry, said he repeatedly urged corrections officers to give Thomas water the day before he died. Berry was in a cell across from Thomas the last six days of Thomas' life.
The tap water in Thomas' cell was shut off the day he was brought to the segregation unit, Berry said; those taps are inmates' primary source of drinking water. Berry said a corrections officer told him the water was shut off because of Thomas' erratic behavior in his previous cell.
He said Thomas was also refusing food.
"I could tell he was getting weaker," Berry said. "One day he just lay down, dehydrated and hungry." When Berry asked if Thomas needed water, he said it sounded like Thomas tried to say "yeah" but couldn't fully speak.
Before going to bed that night, Berry said he told a corrections officer: "If something happens to that man, it's your fault."
Thomas spent nine days incarcerated, six of them without water. He was awaiting a psychiatric examination at the time of his death. While he was jailed over a shooting episode, his history of mental illness and erratic behavior should have been enough to inform those at the jail that he belonged in a psychiatric facility with constant monitoring, rather than holed up in a cell with no water.
The Milwaukee County Jail is run by none other than Sheriff David Clarke, who has made himself a conservative celebrity via his numerous Fox News appearances and speaking engagements. He's typically called on to rail against Black Lives Matter and any criticism of law enforcement. As a black conservative, he gives right-wing pundits and white Republicans a tingle up their spine every time he hits the air and talks about the decrepit culture of African-Americans and the lack of personal responsibility in the community.
Also, as one would imagine, Clarke has become a favorite of GOP nominee Donald Trump. Considering Clarke's outspokenness and desire for celebrity, it's easy to see why. He's been featured in ads for the Trump campaign and The Donald has dropped Clarke's name on many occasions. Clarke's chumminess with Trump has led to him lashing out on Twitter lately regarding criticism of how he's run the jail, specifically regarding Thomas' case, claiming his support for Trump is leading to the backlash.
However, the Thomas situation is hardly the first time an inmate has died due to negligence while detained in Clarke's jail. In 2014, the Journal Sentinel published a piece showing 18 deaths from negligence that occurred between 2008 and 2012 in Milwaukee County Jail. One man died in an eerily similar circumstance as Thomas with his water turned off in his cell. Of course, none of the deaths resulted in any charges.
Since Clarke (who won't comment on this case) is a man who talks a lot about personal responsibility and believes in swift and severe punishment for those who commit crimes, it would seem only appropriate that he be charged with negligent homicide for the murder of Terrill Thomas. As the medical examiner declared, Thomas' death was the result of a homicide due to his inability to obtain water.
And, let's face it, the buck stops with David Clarke, right? He's the one in charge. And he was in charge when a prior inmate died in a similar way when officers shut off his water. There is a precedent set at this jail. These are repeat actions. And they are occurring under Sheriff Clarke. One death via negligence is too many in any jail. Dozens under the same sheriff? That's a pattern.