'Sully' Is A Clint Eastwood Homage To Old-Fashioned Manliness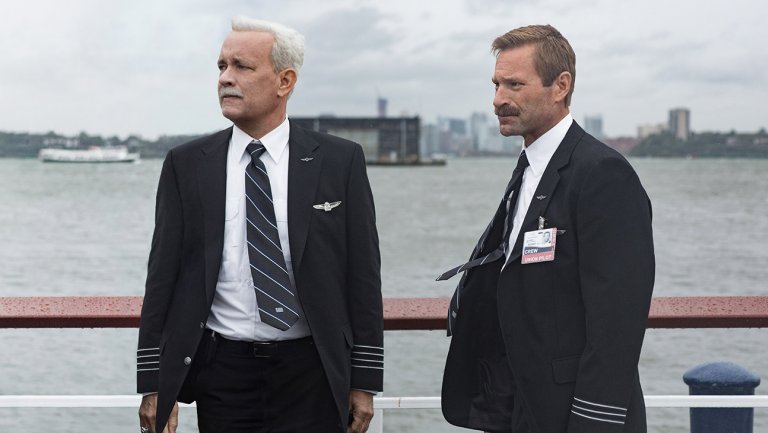 Sully, the Tom Hanks-starring biopic about Chesley "Sully" Sullenberger's Hudson River plane landing, is directed by Clint Eastwood exactly how you think he would direct it: a subtle homage to his ageist, artistic belief that the world is losing manliness as his generation fades.
The film is not so much about the river landing and rescue operation — though these make for a gripping rising-action — as it is about Sully's professional stoicism through the whirlwind of celebrity status and media appearances while being investigated for wrongdoing even after everyone on the plane survives. Add to this a familial fear that the Sullenbergers will lose their house, but Sully juggles it all.
Hanks is at the top of his profession, and his captaining is seasoned now after Saving Private Ryan and Captain Phillips. The white hair and mustache are conspicuous in the first few frames, but he quickly makes you worry that he has aged a lot since you've last seen him in a movie. Hanks will certainly receive obligatory best-actor buzz during award season.
The supporting cast is strong in their real-life characters, and Aaron Eckhart is a Clint Eastwood-style manly man as co-pilot Jeff Skiles. The film's motif throughout is the pilots' grit in handling their lives' turbulence in and out of the plane, and Anna Gunn (of Breaking Bad fame) and Mike O'Malley (Glee) create a lot of that turbulence by leading the investigation that threatens to end the pilots' careers.
The film's timeline is diced with flashbacks in a PTSD fashion, and there is enough background information presented to make you respect Sully and trust he made the right decision to land in the river, even while the airline union tries to take his wings. For a story that everyone knows, though, the strength of this film is in its pacing of the real, historical events on which it is based in a manner like the 9/11 crash film United 93, but without its dizzying intensity.
The film is a crowd pleaser, and Sully's heroism will certainly earn the well-meaning, if peculiar, audience honor of clapping for films. Plan to stay for the credits to see obligatory real-life footage of the pilots and the plane crash survivors thanking them.
Positivity abounds in Sully, and Clint Eastwood isn't directly accusing the world of going soft — though of course Eastwood makes it very clear that the pilots are righteously annoyed when more faith is put in computer simulations than the pilots' intuition — but Sully's story is more cinematic than you think and Eastwood brings it to life.
Contemptor grade: 8.8