Same Day Fox Settles Carlson Lawsuit, Greta Van Susteren Abruptly Leaves Network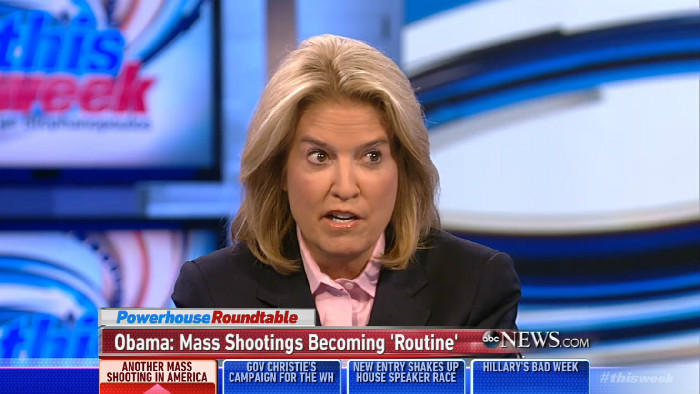 All kinds of shit is popping off at Fox News.
The same morning news broke that the network was going to settle with former host Gretchen Carlson over her sexual harassment lawsuit against ex-chief Roger Ailes, Fox News announced that On The Record's Greta Van Susteren was leaving the channel immediately. No reason was given for the sudden departure of the longtime host, who has been with the network for 14 years.
Temporarily replacing her is Brit Hume, who used to anchor the spot ahead of hers and has largely been a commentator in recent years. Per Fox, he'll man the desk at the 7 PM hour until the elections are over.
In a statement released to the press, Fox execs thanked Van Susteren for her service but provided no comment from her personally. They also hyped Hume as "one of the best analysts in the business" and bragged about how he'll help them dominate the ratings.
There will be tons of speculation about Van Susteren's sudden and immediate leave of Fox. Over the past few months, she's been one of the loudest pro-Trump voices on cable news. She also was one of Ailes's defenders in the wake of sexual harassment allegations. One has to wonder if she'd thinking of joining the soon-to-be Trump media empire that is obviously in the works right now.
Hmmmmmmm…
UPDATED: According to Fox News' media correspondent Howard Kurtz, Van Susteren had been looking to renegotiate her contract after Ailes was forced out. When talks stalled, she decided to opt out.
According to a source familiar with the process, Van Susteren asked to renegotiate her contract after Roger Ailes resigned under pressure as Fox News chairman following a sexual harassment lawsuit.
When those negotiations deadlocked, Van Susteren chose to invoke the departure option, the sources said. Her last show was Thursday, and the swiftness of events did not allow her to deliver an on-air farewell.
This certainly sounds like she's looking to join her old boss in his new endeavors with Trump and Breitbart's Steve Bannon. Now just waiting to see when Sean Hannity and Papa Bear decide to do the same thing.