Katrina Pierson: 'Trump Can't Promise To Deport Every Single Illegal Alien'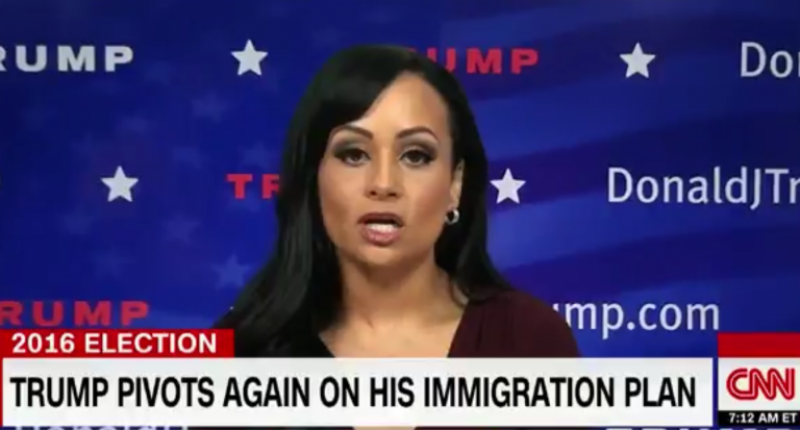 Will Donald Trump deport illegal immigrants or won't he? That's a question the Trump campaign doesn't seem able to answer. At the start of his campaign, Trump pledged to deport 11 million illegal immigrants because they were criminals who brought drugs into the country and committed rape. He then appeared to roll back on mass deportation, before re-iterating the claim in a recent key speech on immigration reform.
Trump campaign spokesperson Katrina Pierson hasn't helped to clarify Trump's position. Speaking to CNN, she claimed that Trump couldn't promise to deport all illegal immigrants because there were far more of them than official numbers claim. Pierson thinks there are three times as many illegal immigrants than there really are.
"We are continuously hearing that there's not 11 million," Pierson said. "There could be 20 million, there could be 30 million," she said. "This is important because Mr. Trump can't promise to deport every single illegal alien in the country if there's 30 million."
The claim that there may be 30 million undocumented migrants in the US is simply not supported by fact. Pierson's argument that Trump cannot promise to deport illegal immigrants if the number is uncertain seems like a poor explanation for Trump's unclear position on the issue.
You can watch a clip below, as posted on Twitter.
.@KatrinaPierson on Trump's changing immigration stance: He said from beginning he'd be "a negotiator in Congress" https://t.co/G4qVqhxleN

— New Day (@NewDay) September 6, 2016