'Kubo And The Two Strings' Is A Stop Motion Beauty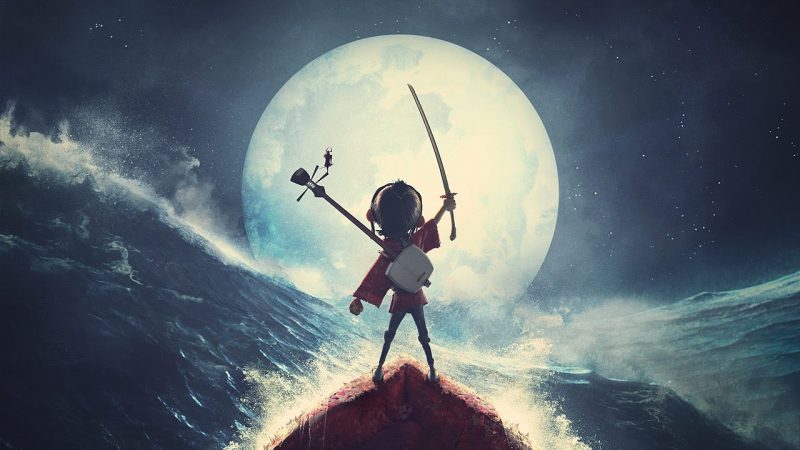 Kubo and the Two Strings is a beautiful film with tranquil colors and an ancient Japanese aesthetic. Its mastery of stop motion production is apparent in its 3-D presentation, and watching the adventure is like being inside a Zelda video game.
The titular character (Art Parkinson) is a one-eyed boy who has a windy power to pantomime the stories he tells with flying origami monsters and a samurai protagonist to battle them. Kubo channels this magical ability by plucking the strings of a guitar, and he plays daily for the village folk. However, his ailing mother makes him return home every evening before the moon comes out, warning of extreme danger.
They live away from the town in a cave, and one evening Kubo stays in town too long to see the town's festival of the dead to try and communicate with his father, who he has never met. His father was murdered while saving him from Kubo's maternal grandfather, who almost succeeded in taking both of Kubo's eyes. It is a chaotic family dynamic for sure.
The sun sets on Kubo and the moon glow brings the danger his mother always warned him about. The menace just happens to be Kubo's twin maternal aunts (Rooney Mara), but he escapes and embarks on a journey to repeat the destiny of his samurai father where he meets a protective monkey (Charlize Theron) and a warrior beetle (Matthew McConaughey, of all people).
The voice casting is great all around, and the script has unexpectedly good jokes with which they know what to do. Parents will enjoy this movie as much as their kids.
The soul of the film is in the music, and the soundtrack is a show by itself, with both the symphonic backgrounds and Kubo's breezily magical guitar playing. A cherry on top is the credits song, a beautiful cover of "While My Guitar Gently Weeps" infused with the film's Asian vibes. What a delightful idea to keep audiences in their seats to see the impressive number of people involved in the making of the film.
The sensory attention to detail is why Kubo production company Laika has gotten so much buzz for its animations (Coraline, ParaNorman, and The Boxtrolls). Getting swept up in the action is easy, even if the plot throughout really makes no sense when you stop to think about it. The animation's 3-D cinematography immerses you deeply into its world of fantastical magic phenomenon, so you don't really have time to stop to do any thinking.
On the drive home, with your suspension of disbelief behind, the questions will start occupying your reflections, but it does not make you admire Kubo's artistic world any less. Kubo and the Two Strings has real charm, and, even if the themes are a little whimsical, they are passionately expressed.
Contemptor Grade: 9.1/10