All Hell Breaks Loose As Debbie Wasserman Schultz Speaks To Florida Delegates At DNC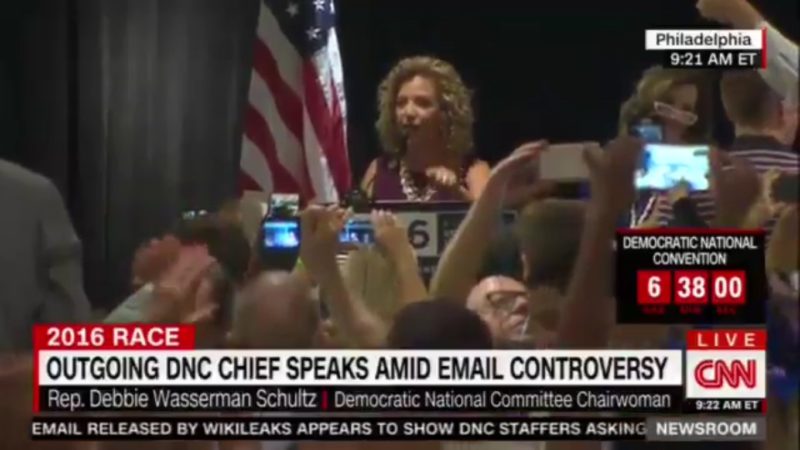 Just what in the hell was she thinking?
A day after being labeled Public Enemy #1 in Philadelphia and being forced to resign amidst the WikiLeak's release of emails, outgoing Democratic National Committee chairwoman Debbie Wasserman Schultz showed up at a breakfast meeting of Florida delegates to deliver a speech. The results were oh so predictable.
Debbie Wasserman Schultz gets heckled & booed while speaking at Philadelphia breakfast. Full Shame Nun treatment ? pic.twitter.com/wOCGFOYF15

— David Mack (@davidmackau) July 25, 2016
As you can see from the video above, attendees greeted the Florida Congresswoman with heckles and boos. Many in the audience yelled out "Shame," as if DWS were Cersei Lannister.
Wasserman Schultz was hoping to strike a conciliatory tone and call for unity as the Dem convention gets underway.
"So I can see that's little bit of interest in my being here and I appreciate that interest. And a little bit of interest from the press but that really shows you that Florida is the most significant battleground state that will make sure that Hillary Clinton is elected president of the United States of America. We are the state that will deliver the White House to make sure that we can continue to make the progress that we have been able to make under Barack Obama for the last eight years."
But the crowd wasn't having it. And it sounds like it wasn't just Berniecrats booing her. Let's face it, most Democrats are likely super-pissed at DWS for the distraction she has caused with her unflattering emails regarding Bernie Sanders and his campaign. At this point, they just want her to go away, far, far, far away.
When announcing her resignation on Sunday afternoon, Wasserman Schultz said she would step down at the end of this week. Apparently, it was so she could speak in front of the delegates and perhaps even get a TV speaking slot on the main stage. However, based on the reaction she received Monday morning, I can't even imagine them allowing her to make another speech.
Meanwhile, Sanders is set to address Democrats in primetime Monday night. Based on his campaign's statements, he is expected to make the case to his supporters on why they need to support Hillary Clinton over Donald Trump. The latest polls show that Trump received a bounce after the Republican convention and now holds a slim 0.2 point lead in the Real Clear Politics polling average.