Kate McKinnon Absolutely Steals The Show In The So-So 'Ghostbusters' Reboot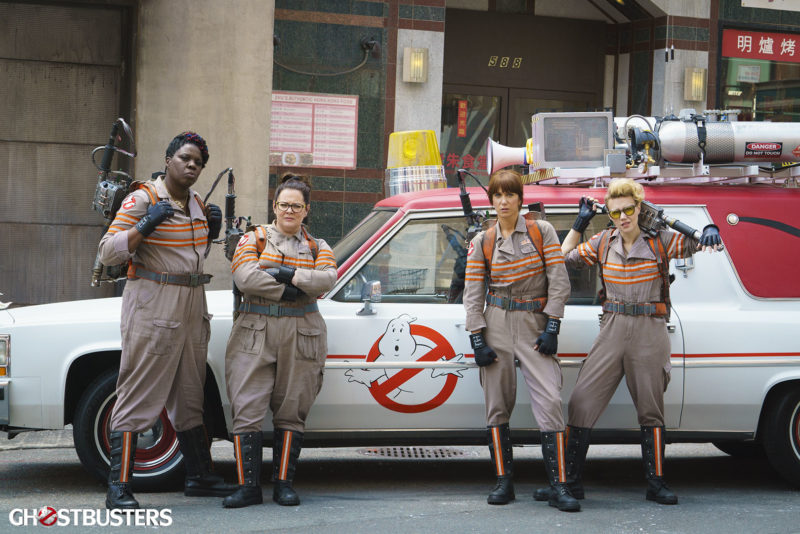 Let's just get one thing straight right off the bat — Ghostbusters is a lot of fun.
The long-awaited reboot of the comedic franchise, 27 years after Ghostbusters II, pretty much copies the template of the original film. We see a ghost in a New York location. The owners of the location track down scientists who study paranormal activity. Said scientists discover that ghosts are real. They go into the ghosthunting business, picking up a useless secretary and another Ghostbuster along the way. Ghosts overtake the city and only the Ghostbusters can save the day. Fin.
This was pretty much expected going in. The whole thing is in the execution. And, for the most part, everything was adequate to above-average. Director Paul Feig reunites Kristin Wiig and Melissa McCarthy from his previous hit Bridesmaids to star as childhood friends turned scientists. Erin Gilbert (Wiig) is a straight-laced professor trying to get tenure at her university. Abby Yates (McCarthy) works at a little-known institute with Jillian Holtzmann (an amazing Kate McKinnon), selling a book she co-wrote with Erin on ghosts to help make ends meet.
The book leads to the owners of a historic house/museum to seek out Erin to help them out with the spirit that has suddenly infested the property. Erin, Abby and Holtz run into the ghost, film the experience, put it on YouTube and they're off and running in the ghostbusting business. (It helps that they all lose their jobs over the incident.) After setting up shop and hiring a very dumb, very amazing looking receptionist (an impressively funny Chris Hemsworth), they find themselves a new partner in Patty (Leslie Jones), an MTA worker who sees a ghost in a subway tunnel.
Just like in the original, there's something more at foot with the sudden increase in paranormal activity. Basically, it is a crazy, bullied, fanatic (Nathan Corddry) who is using Abby's and Erin's own theories to poke into the other dimension, all in an effort to become the supreme leader of Earth or something. Really, that isn't that important, especially since the film doesn't treat it as such. It is all just a device to get us into some sight gags and big-time special effects.
And that's fine, I guess. But it makes it seem like the whole movie is just painting by the numbers, hoping that it can provide enough crowd-pleasing moments to the audience, especially fans of the original films. While the cameos from Bill Murray, Dan Aykroyd, Ernie Hudson and Sigourney Weaver were all welcome and funny, they also seemed telegraphed and forced to a degree.
The cast performs well. Wiig and McCarthy have a ready-made chemistry that will surely be tapped in later films, whether in this franchise or otherwise. Hemsworth has fun in his against-type role and Jones brings energy into her part. But McKinnon steals the show from everyone.
One could claim that she's chewing scenery playing the quirky, Egon-esque tech-expert who is responsible for making all of their ghost-catching equipment. But who the fuck cares if she's hamming it up? She's by far the most entertaining part of the whole film.
All in all, this is probably worth the time to see it. It's funny. There's a lot of booms. Tywin Lannister is in it for a bit. However, watching it just made me appreciate how great the original one really was. Maybe I'll pop that in tonight.
Grade: B-