'Keanu' Is The Best Violent Comedy Starring A Cute Kitten You'll See This Year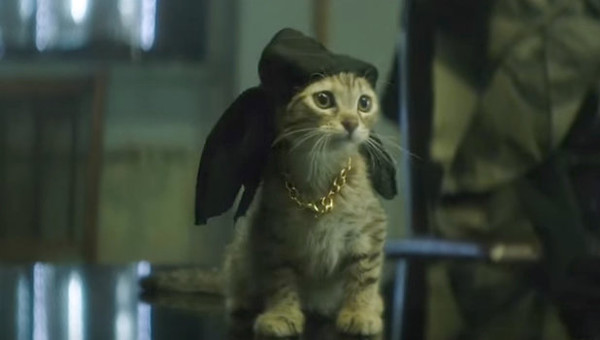 From the very beginning of Keanu, an extremely violent and refreshingly crude comedy from the comedy duo Key & Peele, you know you are in for something different. The film starts with a shootout in a drug warehouse that seems straight out of a John Woo flick, complete with balletic choreography and ample use of the slo-mo. And, during this scene, we are introduced to the central character, Keanu, a totes adorbs kitten.
From there, the plot, whatever there really is of it, kicks in. And honestly, the plot in a film like this only needs to drive the story along so we can get from gag to gag. In this instance, we are introduced to Clarence (Keegan-Michael Key) and Rell (Jordan Peele). Clarence is a middle-class husband and father who is wound too tight while Rell is dealing with a bad breakup. Keanu shows up at Rell's doorstep, having just escaped the bloody massacre at the beginning of the film, and Rell is instantly smitten.
Within a period of two weeks, Rell has bonded with Keanu, building him a large kitty condo inside his apartment and photographing him in intricate film-based settings for a calendar. Meanwhile, Clarence's wife and daughter go out of town and he decides to spend a weekend hanging out with Rell. While out at a movie, Keanu is taken during a home invasion, which was actually supposed to be targeting Rell's weed dealer, Hulka (a hilarious Will Forte).
Rell isn't going to just let Keanu go, so after finding out from Hulka who would break into his house, the straight-laced pair head to a titty bar called HPV to talk to Cheddar (Method Man) and see if he may have info regarding the irreplaceable kitten. From there, we get a combo of two well-worn but effective comedic tropes — Fish Out Of Water and Mistaken Identity.
After pretending they were two hard-ass assassins known as the Allentown Brothers, they discover Cheddar has Keanu. Despite impressing Cheddar with their tales of killing, they can't convince him to give up the kitty, as he's apparently fallen in love with him too. However, he says that if they do a run with his crew and show them the ropes, he'd gift them Keanu as a gesture of respect.
At this point, the movie becomes like a lengthy, much more profane episode of Key & Peele, which is definitely not a bad thing. We are treated with joke after joke, with more hitting than not. Besides the running cute kitty gag that centers the film, another movie-length joke revolves around Clarence's love of George Michael. We are treated to a Clarence starring in the 'Faith' video during a drug-induced hallucination as well as him convincing a car full of gangsters that Michael is as hardcore as it gets.
Another highlight involves Anna Faris playing herself as a burned-out, sword-wielding psychopath who is looking to score some Holy Shit, the name of the drug Cheddar is dealing. It should be noted, yet again, that this film is extremely violent, more so than most action comedies. (Think Pineapple Express turned up to 11.) While normally that would dampen the mood and maybe turn the laughs into winces, it works in this setting.
The thing is, we can go over the storyline, the direction, the performances, but when it comes to a comedy, all anyone wants to know is one thing — is it funny? And this one is, it really, really is. And that's all that matters here. If you want to laugh, and laugh a lot, go see Keanu.
Grade: A-