Jerry Springer: Republicans Should Pay Me Royalties For Stealing My Show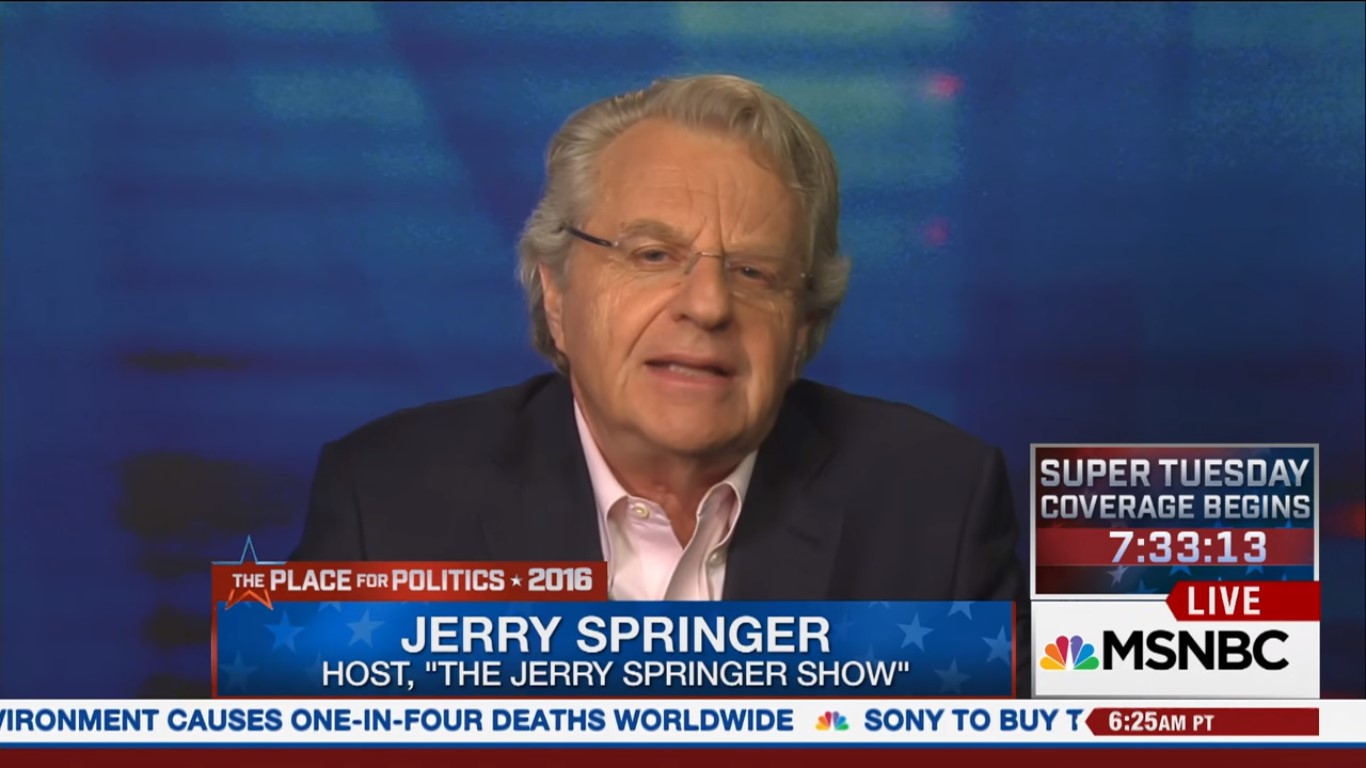 Over the past few months, many have commented how former reality TV star Donald Trump's campaign is like a neverending episode of The Jerry Springer Show. The comparisons became more apt over the weekend when violence broke out at Trump rallies in St. Louis and Chicago. Therefore, who better to comment on the similarities than the ringmaster himself.
Appearing on MSNBC Tuesday, the former Democratic Mayor of Cincinnati and longtime host of the eponymously named tabloid talk show provided spoke to Steve Kornacki on the dynamics of the presidential race. He joked that the GOP needs to start forking over some cash because they've copied his show.
"When I first started watching the Republican debates I said that, you know, if they're going to do my show, they should start paying me. It's one thing to have a television show like that, but that's not how you run a country."
Springer, who was also a news anchor before becoming the undisputed King of Trash TV, stated that he has faith that the American people won't vote Trump to the White House, largely because they can't deal with the thought of him in charge of the nation's nuclear weapons.
"I'm telling you, there is no conceivable way that America in a general election … there is absolutely no way that Donald Trump becomes president of the United States. America is not gonna vote for that man to have his finger on the button. I mean, the television show is over.
When you're talking about President of the United States, the leader of the free world, having to deal with all these other countries, having to get the support of a lot of Islamic nations in fighting terrorism, we can't have someone like Donald Trump. This is not a joke."
Below is video of the segment, courtesy of MSNBC:
Springer would also speak to CNN's Brooke Baldwin later in the day, generally giving the same responses while also saying that if Trump was on his show, he'd jokingly ask him, "Have you ever been a woman?" The talk show host then clarified that Trump would never be invited to his show because he's already very famous.
.@jerryspringer says @realdonaldtrump won't win G.E., tells @BrookeBCNN "America is not going to vote for him" https://t.co/MDy0FF0ChK

— CNN Newsroom (@CNNnewsroom) March 15, 2016