Should MSNBC Suspend Chris Matthews Over Suspicious Donations To His Wife's Campaign?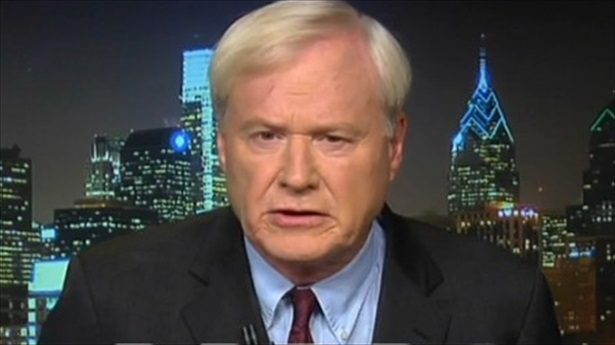 Chris Matthews is a political lifer. The man served in the administrations of former President Jimmy Carter and ex-Speaker of the House Tip O'Neill. He's used his longtime ties to the Washington establishment to essentially form the basis of his MSNBC program Hardball, bringing on lawmakers, politicians, lobbyists and pundits to gab about the ins and outs of Capitol Hill. It now appears that he might be using his cable news show to get those same Washington insiders to toss some bucks his wife's way.
Last summer, Matthews announced during a broadcast that his spouse, Kathleen Matthews, was running for Congress in Maryland's 8th District open seat as a Democrat. He promised his viewers and the network at that time that he wouldn't use Hardball to promote her candidacy and that he'd make sure to disclose their relationship if that race was ever covered on the show. She also stopped appearing on the show, something she had done in the past. With a presidential election underway, it would seem unlikely that her race would get mentioned much on the program, and it seemed that that was that.
Since that time, it has been mostly quiet on that front. Yes, right-wing publications, specifically the Daily Caller, have targeted Matthews over and over on this topic, claiming his barely-concealed bias towards Hillary Clinton was helping his wife's campaign. However, it was a report from The Intercept over the weekend that created a renewed interest into whether Chris Matthews was inappropriately using Hardball to push donors his wife's way.
According to the article, frequent guests of the program have donated nearly $80,000 to Kathleen Matthews campaign, with some of those contributions coming mere days before the guests appeared on Hardball. Sen. Kristen Gillibrand's political action committee sent $10,000 to Matthews just two days before doing an interview on the show. Another Democratic Senator, Barbara Boxer, tossed a thousand bucks towards the campaign a day before showing up on Hardball.
On Monday, a potential Republican opponent of Kathleen Matthews called on MSNBC to suspend her husband while the campaign is ongoing, citing the Intercept piece. According to CNN's Dylan Byers, Aryeh Shudofsky, who would face Matthews in the general election if both win their primaries next month, said it is MSNBC's duty to remove Chris Matthews from the air while his wife is running for public office. He pointed to Maria Shriver taking an extended leave while her husband ran for governor in 2003.
"Kathleen Matthews is a congressional candidate and is inappropriately benefiting from her husband's position," Shudofsky said, citing reports that guests on MSNBC's "Hardball" had contributed to Matthews' campaign.
…
"Basic ethics and precedent dictate that MSNBC should cancel 'Hardball' until Kathleen Matthews is no longer a candidate for Congress," Shudofsky said. "In 2003, Maria Shriver took an extended leave from NBC when her husband, Arnold Schwarzenegger, ran for governor, and relinquished her position when he ultimately won."
Now, let's be clear on one thing. Democrats are going to support other Democrats, especially when it comes to Congressional and Senate races. Prominent politicians are going to direct funds towards these races, regardless of who the spouses of the candidates are. It is quite likely that Kathleen Matthews would have received those $80,000 if her husband didn't have a influential, long-running, cable news program.
But, her husband is Chris Matthews, and he does have a show, and he does hobnob with movers and shakers within the party.  It is this very appearance of impropriety that will continue to haunt her campaign and cause headaches for MSNBC over the coming months. It is made worse by the notion that Chris Matthews is using his program to openly campaign for Hillary Clinton. (Much in the same way that Morning Joe has caught flak for being 'in the tank' for Trump.)
Obviously, in today's media culture and reality TV show political environment, cable news networks don't care one iota about journalistic integrity or news broadcasting standards. It is unlikely that anything will happen to Chris Matthews. But, it would be nice if once, just once, in the shitshow that is cable news, that those at top would actually try to pretend they're in the news business, and not the entertainment one.