Trump Fan At St. Louis Rally: "F*ck Islam! Allah's A Whore! Jesus Is The Most High God!"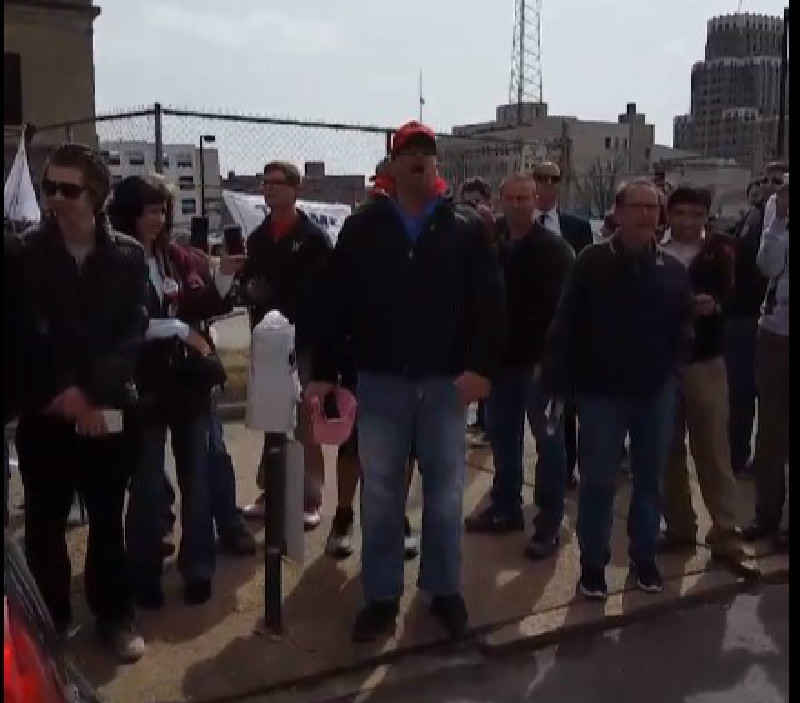 The major story coming out of the Friday afternoon Donald Trump rally in St. Louis will be of the large number of protesters who were arrested, some violently, after disrupting the GOP frontrunner's event. However, one video captured prior to the start of the event may very well go viral, due to how it perfectly encapsulates the message that Trump's supporters are receiving from their new idol.
Even before the rally began, police were arresting demonstrators. While one was being escorted in front of a line of rally-goers, one Trump fan began shouting at protesters and the man being led away. Marissa Southards, a Black Lives Matter ally (and my sister) attending the event with other activists, was filming when the exchange went down. She was able to capture a moment of pure, uncut bigotry that really borders on parody.
The possibly inebriated bro shouted the following line after yelling some 'fuck yous' at his sworn enemies:
"Fuck Islam! Allah's a whore! Jesus is the most high God, and you bitches are done!"
Shit, you couldn't make that up if you tried. That is some sixth-level redneckery, mixed in with a bit of Limbaugh and Michael Savage, topped off with a heaping dose of Fox & Friends. It takes Trump's recent comments about how he "thinks Islam hates us," and turns it up to eleven.
Below is the video:
This guy though #TrumpRally pic.twitter.com/cfTUHfAVWu

— Marissa (@southards_3) March 11, 2016