Threatened With Legal Action, Lou Dobbs Declines to Offer Personal Retraction of His Own Debunked Claims of Voter Fraud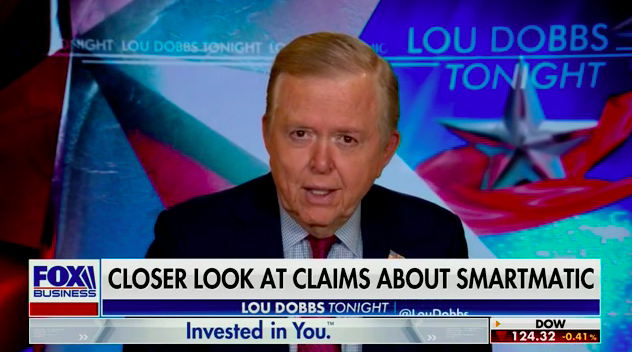 Fox Business Network host Lou Dobbs on Friday included in his show a fact-check of his own unsubstantiated claims about voting machines in the 2020 election, yet not from himself.
A frequent defender of President Trump, Dobbs has lobbed false rumors against Smartmatic, a Florida-based voting machine company. In a letter threatening legal action against Dobbs for "false and defamatory statements," Smartmatic cited several of Dobbs' claims:
"The states, as you well know now, they have no ability to audit meaningfully the votes that are cast because the servers are somewhere else and are considered proprietary and they won't touch them," Dobbs commented during one broadcast.
Dobbs said another time, referencing Dominion Voting Systems: "Dominion has connections to UK-based Smartmatic, a voting technology company established in 2000 that had ties to Venezuela's Hugo Chávez."
In response to this letter, Dobbs apparently felt it appropriate to debunk his own arguments, yet from a distance.
"There are lots of opinions about the integrity of the election, the irregularities of mail-in voting, of election voting machines and voting software," Dobbs said, declining to note that he himself has broadcast those opinions to the public. "One of the companies is Smartmatic, and we reached out to one of the leading authorities on open source software for elections, Eddie Perez, for his insight and views."
"I have not seen any evidence that Smartmatic's software was used to delete, change, alter anything related to vote tabulation," said Perez, Global Director of Technology Development & Open Standards for the Open Source Election Technology Institute.
An unidentified interviewer then asked: "Smartmatic says its software was never used outside of L.A. County in 2020. Do you know whether or not that's true?"
"That is my understanding," Perez replied.
Dobbs didn't bother to issue a retraction, apology or any sort of reflective personal commentary on the matter. His show went to a commercial break immediately following Perez's answers.
According to Mediaite, a similar fact check will air this weekend on the shows hosted by Fox News' Jeanine Pirro and Maria Bartiromo.
Watch the video above, via Fox Business Network.