GOP Senators Who Acquitted Trump Because 'Voters Should Decide' Struggling to Publicly Admit Biden Win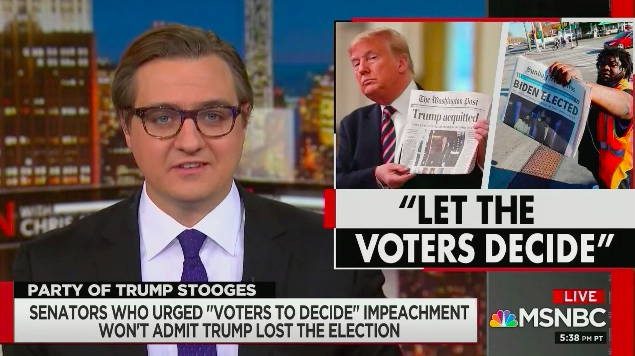 MSNBC host Chris Hayes on Friday highlighted one of Senate Republicans' arguments against removing President Trump from office after he was impeached late last year: that the voters should have their say in the general election.
Yet now that Trump has lost the election, many of those same senators are having a difficult time publicly acknowledging Joe Biden as the president-elect.
When The Washington Post reached out to all 53 Republican senators regarding Trump's legal efforts to overturn the results of the election, fewer than 10 responded. Of those, most either declined to comment or referenced previous statements.
Only three — Sens. Susan Collins, Mitt Romney and Ben Sassse — have openly criticized the president for it.

Hayes said that Republicans have largely "dragged their heels" about the outcome, with some even becoming "complicit participants in Trump's feeble attempt to subvert the election."
Now that the election has occurred, he said, "all those Senators should be showing some deference, some respect for the decision, I mean they told us [that] this was the thing to do and we went out and did it, and now what? Now what?"
Watch the video above, via MSNBC.