Romney: Trump's Election Attacks Are Baseless Because He Has a 'Relaxed Relationship with the Truth'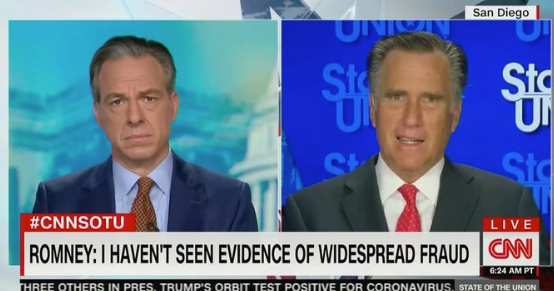 Sen. Mitt Romney (R-UT) dismissed President Trump's false claims about the election process and his refusal to concede, yet couldn't bring himself to say that the president has lied, but rather that he "has a relatively relaxed relationship with the truth."
Romney, speaking with Jake Tapper on CNN State of the Union, said it's "destructive to the cause of democracy to suggest widespread fraud or corruption" when there isn't any. "And I think it's important for us to recognize that the world is watching."
Yet Romney predicted that Trump will still go down this path.
GOP Sen. Mitt Romney told @jaketapper he has seen no evidence of widespread voter fraud across the US.

"There's just no evidence of that at this stage. And I think it's important for us to recognize that the world is watching," Romney said https://t.co/6YtwBOscCC #CNNSOTU pic.twitter.com/cZQO8LEX1j

— State of the Union (@CNNSotu) November 8, 2020
"You're not going to change the nature of President Trump in these last days," Romney said. "He is who he is and he has a relatively relaxed relationship with the truth, and so he's going to keep on fighting until the very end."
Watch the video above, via Twitter/CNNSotu.