Toobin: Amy Coney Barrett Is So Conservative that John Roberts 'Becomes Almost Irrelevant'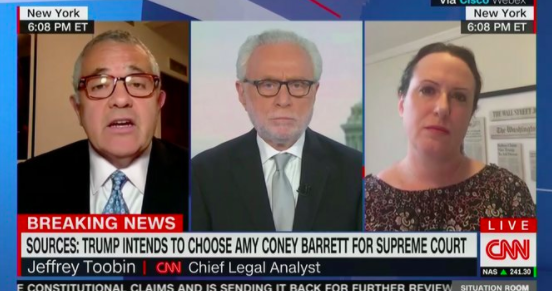 President Trump is expected to name U.S. circuit court of appeals judge Amy Coney Barrett as his pick to replace Ruth Bader Ginsburg on the Supreme Court following her death last week.
Discussing Barrett's background, CNN legal analyst Jeffrey Toobin said that she "is a lock as a conservative vote for many decades" if confirmed by the Senate.
"If you look at her record on abortion rights, on the prospect of overturning the Affordable Care Act, she is the full Trump program, as far as we can tell. That looks like it will get more than 50 votes in the Senate," Toobin said. Republicans hold a 53-47 edge in the upper chamber of Congress.
Toobin added:
There have only been 114 Supreme Court justices in history, so everyone is important, but this one is especially important because it will put six conservatives on the court where Chief Justice John Roberts — who was no liberal, but acted in a pretty moderate way this past term — he becomes almost irrelevant because now you'll have Amy Coney Barrett, Clarence Thomas, Samuel Alito, Brett Kavanaugh, and Neil Gorsuch — a majority in any case they want. That's a big change at the court.
In 2018, when Trump named Kavanaugh to replace retiring justice Anthony Kennedy, he reportedly told aides that he was "saving [Barrett] for Ginsburg."
Watch the video above, via CNN.