Jeffrey Toobin: McConnell Replacing Ginsburg Would Be 'The Greatest Act of Hypocrisy in American Political History'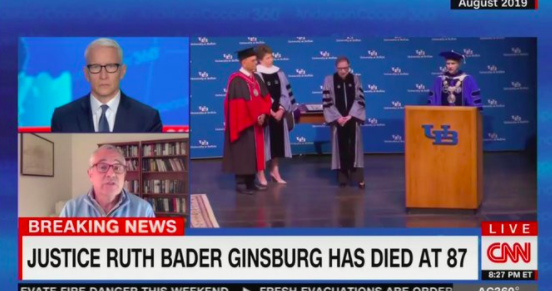 Following the death of Supreme Court Justice Ruth Bader Ginsburg on Friday, it did not take long for Senate Majority Leader Mitch McConnell (R-KY) to issue a statement resolving any doubt as to how he would proceed with another vacancy on the court.
McConnell said he would indeed hold a vote on the Senate floor on President Trump's pick. McConnell, of course, declined to do the same for Merrick Garland, President Obama's choice to replace Justice Antonin Scalia after his death in early 2016. McConnell's actions today are therefore widely being criticized as hypocritical.
CNN's Jeffrey Toobin told Anderson Cooper that Democrats can either "pretend they are powerless in this situation or they can pick a fight for once."
He continued:
The idea Mitch McConnell could engage in the greatest act of hypocrisy in American political history by stopping Merrick Garland who faced a vacancy in February of an election year, and jamming someone through when there is a vacancy in September of an election year — I don't think that's a foregone conclusion. I also recognize that there are only 53 Republicans in the Senate. Will Mitt Romney go along with this? Will Lisa Murkowski? Will Susan Collins? Will Lamar Alexander?
A few Senate Republicans — Murkowski, Collins and Lindsey Graham — previously said they would not consider a vote for a new justice before the election, but at the time they were asked, it was a hypothetical.
In explaining his decision to proceed with a nominee, McConnell claimed that this situation is different because President Trump is not a lame-duck president and that the Senate and the White House are held by the same party.
In the meantime, options for Democrats that have been floated include threatening to get rid of the filibuster and pack the court should Biden win and the party reclaim the Senate.
Watch the video above, via CNN.