Jake Tapper Ends Interview After Peter Navarro Refuses to Answer Basic Questions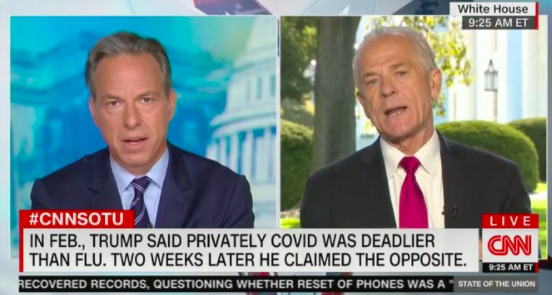 White House trade adviser Peter Navarro showed up Sunday on CNN for yet another trainwreck interview that featured him obfuscating and loudly arguing with the host while refusing to answer direct questions.
In this instance, however, State of the Union moderator Jake Tapper finally had enough, cutting the seemingly pointless interview short after Navarro said the host and CNN are not being honest with the public.
Navarro set the tone for the combative morning chat when he took Tapper's first question about the disastrous and deadly West Coast wildfires and twisted it into a pat on the back for the president.
"One of the things I'd like to do before we get started though is I'd really like to congratulate President Trump on being nominated for the peace prize, the Nobel Peace Prize. Because this last week, if you look at the signal rather than the noise, he brokered a second deal with Bahrain," Navarro cheerfully boasted.
"I want to keep talking about the fires in your former home state of California," an unimpressed Tapper shot back.
Watch the video above, via CNN.