Jesse Watters and Eric Trump Whine About Twitter Banning QAnon Accounts, Which Have 'Uncovered a Lot of Great Stuff'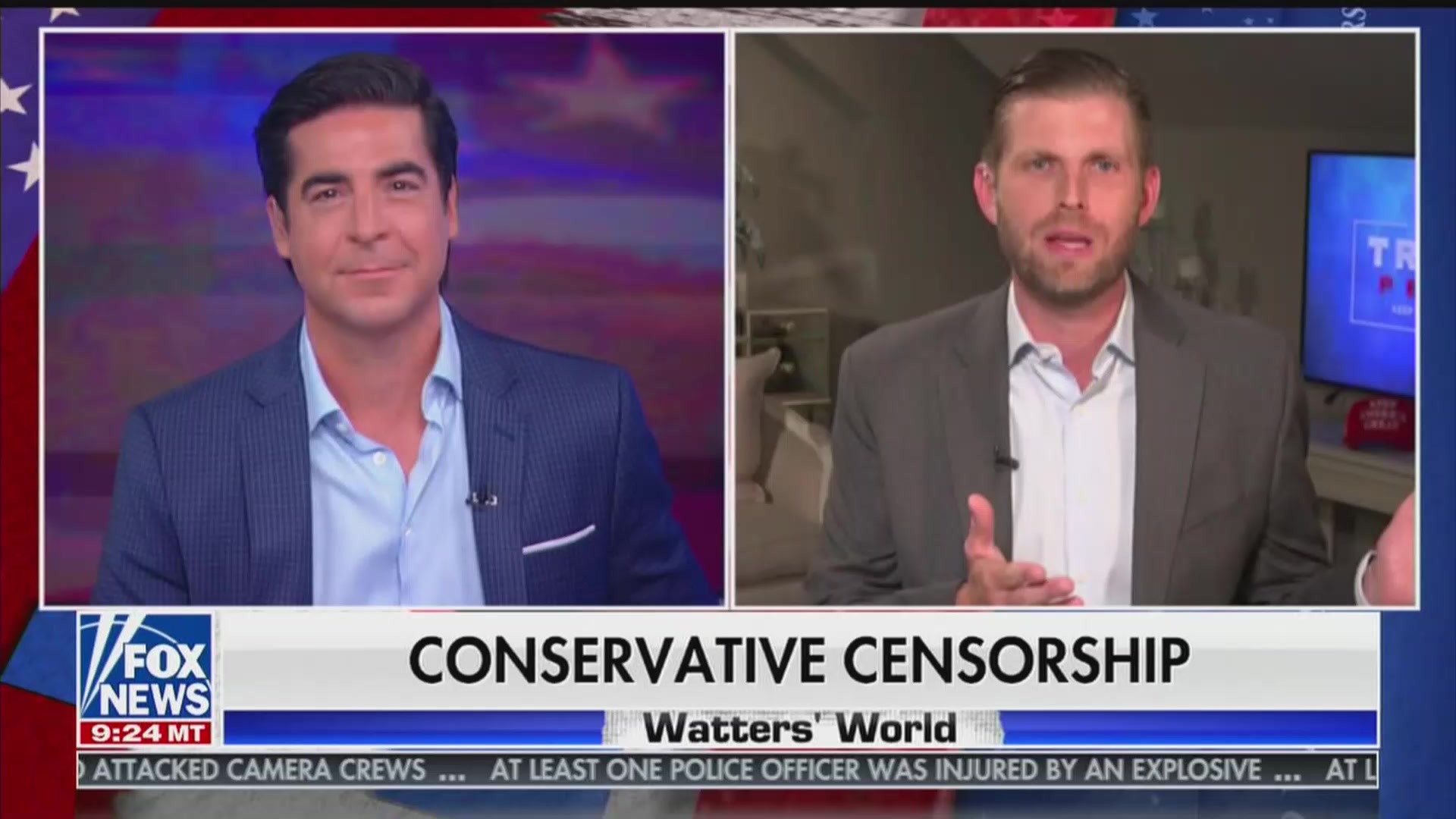 Fox News host Jesse Watters and Eric Trump on Saturday complained about what they called the censorship of conservative voices on social media.
Watters mentioned how Twitter earlier this week banned several thousand accounts belonging to the QAnon conspiracy theory movement.
Although QAnon "can do some crazy stuff," Watters acknowledged, "they've also uncovered a lot of great stuff when it comes to [Jeffrey] Epstein and when it comes to the 'deep state.' I never saw 'Q' as dangerous as Antifa, but Antifa gets to run wild on the Internet. What do you make of that?"
"Guess what: Adam Schiff does a lot of crazy things. Jerry Nadler and Eric Swalwell, they also do a lot of crazy stuff," said Trump, who in the past posted a QAnon message on Instagram only to delete it a few hours later.
"Here's the fundamental problem, Jesse, that I have with it," Trump continued. "You have some little dweeb in Silicon Valley, who's 22 years old, he's a tech savant. He's running Twitter or one of these companies. And he literally has his finger on the power of a presidential election."
Fox News itself described QAnon as a "conspiracy theory centered on the baseless belief that President Trump is waging a secret campaign against enemies in the 'deep state' and a child sex trafficking ring run by satanic pedophiles and cannibals."
A Republican congressional candidate in Georgia, Marjorie Taylor Greene, is expected to become the first open QAnon believer in Congress should she win a GOP-friendly district in November.
President Trump, meanwhile, has retweeted followers of the group with more frequency in recent months.
Watch the video above, via Fox News.